Graham Reid | | 2 min read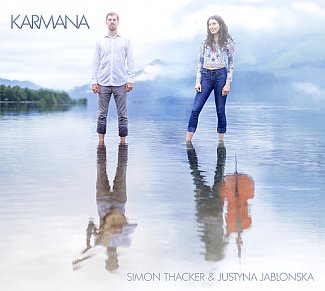 When we interviewed Scottish guitarist Simon Thacker in 2015 in advance of his New Zealand tour it was hard to know how describe him. "Guitarist without portfolio" seems about as close as you might get.
Back home in Edinburgh he teaches classical guitar but he also helms his own Ritmata ensemble (which he brought to New Zealand) and consider them his more jazz oriented group, as opposed to his Svara-Kanti group which explores and reinvents Indian classical music.
Oh, and he plays folk and blues (his first loves were Delta blues musicians) and the latter lead him into African music . . . just as classical guitar took him to flamenco.
That much breadth we established in the first few minutes of a lengthy and interesting conversation (he also answered a questionnaire here), and his concert in Auckland – reviewed here – was, as expected, thrilling.
None of which really prepares you for this album with Polish cellist Jablonska and other guests. Although in a way, all of the above does.
Here the duo open with the titular six part suite (karmana is Sanskrit for "performing anything by means of magic" Thacker writes in the extensive and informative liner notes). But although Indian raga form is at the heart of this music, Thacker extents the contract into exciting Spanish-influenced playing and unusual harmonics.
With Jablonska offering counterpoint and sometimes counter melodies the expansive suite explores a broad palette of Thacker's myriad influences, right into the classical repertoire in places.
Although the movements of Karmana can be dense, dramatic and sometimes even demanding as the emotional intensity and coiling melodies unfurl and retrace themselves, it is the sheer breadth of the work that impresses. A movement such as The Chariot of the Mind, while sprung from Indian form, is like a musical tag team let loose. It is full of sudden stops, shifts in tempo and tone and includes passages of slow melancholy alongside the more dramatic and furiously energetic playing.
Following the suite are five standalone pieces, one of which is the 12 minute-plus Ruaigidh Dorchadas/The Highland Widow's Lament featuring acclaimed singer Karine Polwart on the latter.
But here Thacker goes in an entirely different direction for its sonic setting using multiple overlapping tapes of backwards nylon-string guitars (think experimental Fripp and Frith, late Sixties psychedelic avant-garde music) to create a disconcerting introduction which resolves itself when Jablonska enters (also multi-layered cellos). There is a discernible Celtic thread to all of this – Thacker outlines the theme of Scottish history in his notes – which collides around the four minute mark evoking the massacre at Culloden in 1746.
Out of the brief silence that follows Polwart's lonely voice enters, singing the Burns' lament for a husband killed in the battle, and again Thacker layers in disturbing sonic beds of keening and atonal guitars and cello parts manipulated.
It is not just a moving and evocative piece but a sonic tour-de-force.
Elsewhere Thacker and Jablonska explore traditional Polish, Gaelic and Roma pieces (the latter with singer Masha Natanson) and the album closes with Aruna, his re-imagining of a raga as a duet between cello and acoustic guitar – with tabla player Sarvar Sabri – which alludes to the broader transmigration of that Indian tradition into flamenco. On an album of often breathtaking playing and expansive thinking it is a standout . . . among standouts.
Simon Thacker's musical life has been a journey through genres, histories, cultures and philosophies and in its own way this quite remarkable, powerfully energetic, demanding but rewarding album is emblematic of that.
You wouldn't put a dollar on where he might go next.
Elsewhere would be my guess.
For more on Simon Thacker and this album go to his website here.