Graham Reid | | 2 min read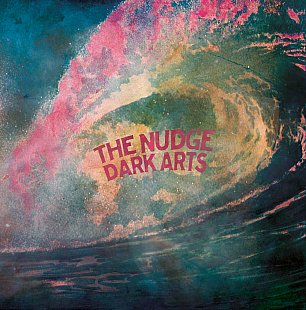 When Wellington's Nudge first appeared at Elsewhere it was an alarmingly long five and half years ago. They arrived with their bluesy, psychedelic Big Nudge Pie which we hailed for their unique take – in this country anyway – on their evident influences.
Given the time lag until this outing, we might conclude the Nudge are "an occasional band" because guitarist/singer Ryan Prebble in the interim has popped up on albums by Rhian Sheehan, plays in Fly My Pretties and seemed to helm Spartacus R.
I've no doubt the others giving it a nudge here – drummer Iraia Whakamoe and bassist-keyboard player James Coyle – keep themselves equally busy.
But as the Nudge they acknowledge space is the place . . . because on the inner gatefold sleeve of this vinyl record, although the pose in wetsuits, the backdrop is of galaxies and stars.
The music – improvised in the studio at a guess – can sometimes be as immersive as a dive into deep waters – as on the meanderingly beguiling and 13 minute The Balance Change – but also very much out there in the psychedelic sky.
In each case you are weightless.
The reference point on that piece is somewhere between '68 and '73 (not the prog stuff, the guitar/psychedelic trip music) and had me going back to my '69 Golden Earring album with its side-long, 19 minute version of Eight Miles High.
The piece – it's not "a song" -- explores drones, repetition and a sense of seductively open space with the barest of guitar notes over the pulse of bass and drums around the midpoint before rebuilding (but actually it's just early pre-fame Floyd) and goes out with terrific, crunching riffery and wah-wah to bring you back to Earth.
If you are one of those who plays an album in sequence – and maybe you should, that's how the creators made it – then The Balance Change sets you up for Bring Me Your Love 1 2 3 which takes up the whole of the second side. (I warned you of that era/reference point).
Opening with a feathery but poignant acoustic guitar figure, the piece arcs up over its 25 minutes through ethereal and distant vocals, into a brief pastoral passage then oceanic sound effects before the percussion gets more strident, the guitar has something of Tom Verlaine's sinuous lines and the whole thing goes out with a tedious prog five minutes which can't quite figure out what it is saying or wants to end . . . it's from about July '69 maybe, and has more than a touch of Grateful Trower Earring with considerably less focus.
Ever since the Clean re-opened the doorway for New Zealand audiences to psychedelic jams in the Eighties there have been cautious attempts at claiming that productive ground again. For my money Gianmarco Liguori's recent astral-flight and jazz-influenced projects capture the tone and mood and effect of psychedelic music with more originality than the Nudge do here. As did the short-lived An Emerald City who brought in violin and world music influences to extended the contract just that but further.
Where that Nudge debut offered something refreshingly different (by engaging with dark blues), here they play to their wig-out strengths (while stepping back into tedious weaknesses) and, enjoyable though bits of this can be, the three pieces rarely feels much more than the sum of the familiar and oftentimes some of the worst impulses of psyche-rock of the formative era mentioned.
Frankly, the rhythmic pulse here can be so unvarying as to be wearily reductive.
The Nudge's arts – dark or whatever – never quite emerge in the way you might hope from the gloom-pop four minute opening title track which sounds like it was hopefully conceived of as an intro-single.
By the end of these two sides of vinyl they have every right to be self-satisfied, but might allow us not to be quite so won over.
It's just sort of pictures . . . without radio, if you will.
You can find this album on Spotify and iTunes