Graham Reid | | <1 min read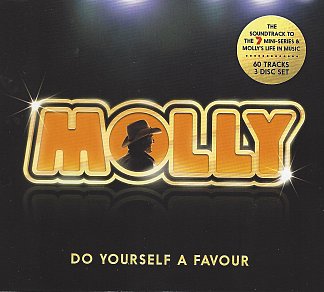 Where the double CD Great Australian Songbook was a handsome package with cover art by Rolf Harris and soaking up big Ocker songs (from Tie Me Kangaroo Down Sport through Midnight Oil, the Church, Easybeats and Paul Kelly to Kylie, Delta Goodrem and Wolfmother), this triple set has a broader reach but a narrower focus.
These 60 songs across three discs aim squarely at the period when Molly Meldrum was hosting Countdown (1974-87) on Australian television and provides the soundtrack to the two-part docu-drama of Meldrum's life.
So here are too many crisp sounding Australian classics to mention (the first disc alone includes Russell Morris' Real Thing, Skyhooks' Living in the 70s and Ego is Not a Dirty Word, Sherbet's Howzat) and plenty of period-piece international hits: The final disc has the Bangles' Walk Like an Egyptian, KC's That's the Way I Like It, Culture Club's Karma Chameleon and many more.
Also here are Kiss, Chisel, Blondie, Enz (I See Red), Billy Idol, Pretenders, Dragon (April Sun in Cuba) and the Swingers (Counting the Beat).
So if your next party requires plenty of shamelessly enjoyable Ock-rock mixed in with the Village People's Can't Stop the Music and Duran Duran's Rio and A-ha's Take On Me then this is very happy to oblige.
And as a tribute to Molly Meldrum's inclusive, eclectic and sometimes indiscriminate taste it's just a lot of fun.