Graham Reid | | 4 min read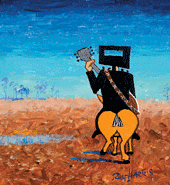 As many Elsewhere readers will know, for my sins (and yes, driven by ego perhaps), I recently agreed to compile a list of albums which I thought would be useful building blocks in any serious music collection.
From our initial discussions which started with the idea of 20 albums, over a beer that quickly expanded to 50 then at some point -- after more beers probably -- it became 101.
Those 101 albums I chose (with suggestions of others at the end of each entry) appeared as a full colour booklet through JB Hi-Fi stores in New Zealand under the name The Cornerstone Collection and can also be viewed on-line (see here).
In the end, whether my selections were "wrong" or "right" (and you can have your say at the website), all I wanted to do was put ideas in front of people. And in any discussion I always point out to dissenters, it isn't about what I left out.
The question is, what of mine would you drop to get your ones in? That's a much harder thing.
This is why I have considerable sympathy with anyone compiling lists or CD collections . . . as Murray Thom and others have done for The Great Australian Songbook, a double CD collection of 40 great Australian songs wrapped in a specially commissioned cover by Rolf Harris.
The collection follows the hugely successful formula which Thom -- a New Zealander - introduced with The Great New Zealand Songbook (which has sold 12 times platinum in New Zealand!)
And after a month, just how successful is the Great Australian Songbook by comparison? Thom tells me he has just received an order for 65,000 copies from one Australian company alone. It has purchased the standard double CD edition for staff Christmas presents and the large format deluxe edition (a 90 page hardback book with handwritten lyrics and reminiscences by the musicians, plus photos) for clients.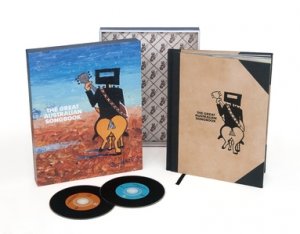 Already over 150,000 copies have been shipped in less than a month.
So, it is popular and commercially successful, but of course for "music people" it is all in the track-listing.
The divide between a disc apiece of "last century" and "this century" immediately creates a problem: it has a certain logic but means that one disc is obliged to cover at least four decades (what, no Slim Dusty! But mercifully no Chad Morgan) and the other just the past 10 years.
At the end here I have reprinted the track listing for you to consider, but here's my thinking.
Despite its innate difficulties, the "last century" disc is actually very good. The choices are classic songs by those important artists. Very good to see Throw Your Arms Around Me by Hunters and Collectors there although the earliest version is better, even more pleasing to note Crowded House -- who appeared on the New Zealand collection -- have not been also appropriated as Australians for this.
Cold Chisel's Khe Sanh over Flame Trees? I'd have gone the other way, but there's no denying the power and importance of Khe Sanh. Some might have argued for something better by Little River Band (Cool Change always sounds like a radio station promo-ad to me).
Obviously missing, of course, are AC/DC and the Bee Gees (that might have been a difficult negotiation) and, like them or not, maybe Air Supply and the Seekers who are great Aussie exports? (Nah, would mess with the pub-rock and serious tone of the content. But Olivia Newton-John's lightweight I Honestly Love You is there so . . .)
So who else is missing? The Go Betweens, Jon English (Turn the Page?), Russell Morris (Rachel might have been a neat counterpoint to Khe Sanh, or The Real Thing?), the Triffids (Bury Me Deep in Love?), Archie Roach . . .
And the absence of the Saints' I'm Stranded really is a major oversight.
Okay, that's the easy part, but the real question is, what would you drop to get one or some of those -- or your choices -- in?
Rolf Harris' Tie Me Kangaroo Down Sport obviously. Well, it's only a whispery 22 seconds and rather neatly sets up the thumping opener by Midnight Oil so . . .
Nope, that's a pretty fair overview, or at least as far as can be achieved in 20 songs from four decades. And let's not forget, the Great New Zealand Songbook later stretched to a Volume 2 so . . .
The "this centry" disc has the advantage of currency with Gotye's recent Somebody That I Used to Know and it is smart enough to include slightly peripheral bands like Empire of the Sun and the Middle East alongside classic Kylie, indie favourite Sarah Blasko and global folk superstar Gurrumul.
Of course the second disc is heavy with the begged question implicit in the word "great" from the title: Will these songs -- by the likes of Jet, the Veronicas, the Temper Trap etc -- have as much resonance and longevity as those on the first?
That can only be answered by time, but Eskimo Joe's Black Fingernails, Red Wine (for example) hardly seem to stand out from the pack of other rock songs of the past decade. And frankly I've never rated the Veronicas, but it seems many Australians do.
And you might wonder where multiple award-winner Kasey Chambers is. On Volume 2 perhaps?
So, The Great Australian Songbook is a more than decent overview of Australian music but, as with any list/top 50/Cornerstone Collection, it raises as many questions as it answers.
And isn't that the great thing about such projects?
There can be no right or wrong answers, just a on-going discussion that has no apparent end or conclusion.
Time to pour a beer and get the debate going.
For more on The Great Australian Songbook and to hear the songs you should check out the elaborate and interactive website here.
Disc 1 - Last Century:

Rolf Harris - Tie Me Kangaroo Down Sport

Midnight Oil - Beds Are Burning

Cold Chisel - Khe Sanh

INXS - Need You Tonight

Men at Work - Down Under

The Church - Under The Milky Way

Mondo Rock - Come Said The Boy

John Farnham - You're The Voice

Daddy Cool - Eagle Rock

The Easybeats - Friday On My Mind

Skyhooks - Living In The 70's

Paul Kelly - Dumb Things

GANGgajang - Sounds of Then (This Is Australia)

Little River Band - Cool Change

Olivia Newton-John - I Honestly Love You

Australian Crawl – Reckless

Nick Cave & The Bad Seeds - Where the Wild Roses Grow (Feat. Kylie Minogue)
Icehouse - Great Southern Land

You Am I - Heavy Heart

Hunters & Collectors - Throw Your Arms Around Me


Disc 2 - This Century:

Jet - Are You Gonna Be My Girl

Powderfinger - My Happiness

Silverchair - Straight Lines

Eskimo Joe - Black Fingernails, Red Wine

The Veronicas – 4ever

Kylie Minogue - Can't Get You Out Of My Head

Empire Of The Sun - Walking On A Dream

The Temper Trap - Sweet Disposition

Gotye - Somebody That I Used To Know

John Butler Trio – Zebra

Delta Goodrem - Born To Try

Pete Murray - So Beautiful

The Middle East - Blood (Radio Edit)

Missy Higgins - Where I Stood

Angus & Julia Stone - Big Jet Plane

Sarah Blasko - All I Want

Alex Lloyd – Amazing

Geoffrey Gurrumul Yunupingu – Djarimirri

The Living End - Wake Up

Wolfmother - Woman