Graham Reid | | 1 min read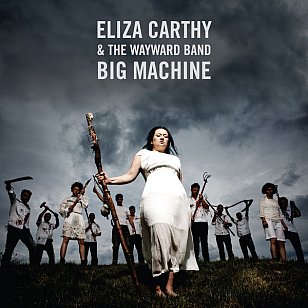 There has always been more interesting streams of British folk than the hey-nonny finger-in-the-ear style which is how many people often encounter it.
At the strange end of the spectrum is the Incredible String Band, then there were the folk-rockers like Fairport Convention and Steeleye Span, the introverted types (Nick Drake), purists like the Watersons and innovators like Tuung, and contemporary musicians around the globe – Fleet Foxes, Tyler Ramsey, Bon Iver etc – who have been influenced by aspects of Anglo-folk.
There is also the more boisterous stuff (Bellowhead, Oysterband) who can shake the walls of any pub and do serious damage to your pint of scrumpy.
Eliza Carthy, now in her early 40s, comes from fine folk stock.
Her father is Martin Carthy, her mother Norma Waterson and, like them both, she isn't hidebound by tradition but stretches herself into the world of electric guitars and has recorded with Billy Bragg and Wilco for the Woody Guthrie albums Mermaid Avenue, as part of The Imagined Village, was on the Rogue's Gallery collection and so much more.
She collaborated with the Oysterband and them, plus the on-again/off-again Bellowhead, are perhaps the best touchstones for this rowdy, thumping and sometimes just downright noisy outing which brings in a blasting horn section, ear-searing fiddle and electric guitar.
MC Dizraeli appears on You Know Me, a powerful McCarthy original about the current refugee crisis and opening doors for those in desperate need.
Mostly this makes the kind of racket you'd love to enjoy live but too often here (Jack Warrell's/Love Lane) you do feel a bit like you've been mugged and bludgeoned by a bunch of wired-up folk-metallers.
When things dial back a bit – Hug You Like a Mountain with the wonderful Teddy Thompson, the eight minute treatment of the traditional I Wish That The Wars Were All Over recorded live in the studio with Ireland's Damien Dempsey – you get a breather and such songs are among the standouts.
That said they really enjoy themselves on the hard rock/folk of Devil in the Woman or the churning The Sea that it's hard not to get swept up.
But you'd rarely accuse this group – which draws members from a number of other bands – of restraint.