Graham Reid | | <1 min read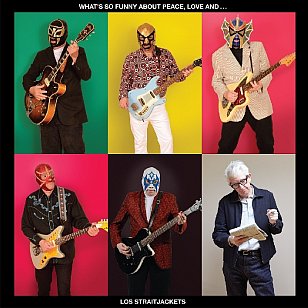 This classy American instrument outfit from Nashville – who have done three tours with the great Nick Lowe – here undertake 13 songs from his extensive catalogue to offer moody soundtrack-like treatments of ballads (You Inspire, I Read a Lot), Shadows-styled covers (All Men Are Liars, the title track), nods to Ventures and surf instrumentals (I Live on a Battlefield, Heart of the City) and so on.
It's impressive enough in its own way – the slow, Sixties guitar twang of Cruel to Be Kind – and reconfirms that Lowe, especially in the past decade or so, crafts elegant melodies . . . but you have to be a fan of this band, the genre of guitar instrumentals or Nick Lowe for this to mean much.
A previous Los Straitjackets album is reviewed here, and there more about surf guitar here.