Graham Reid | | 1 min read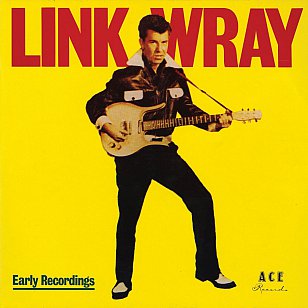 When we recently wrote about Link Wray it was to draw attention to an unexpectedly interesting double disc compilation 3-Track Shack. It brought together three of his albums from the early Seventies where he effectively worked a country-cum-blues rock area along the axis of The Band and Exile-era Rolling Stones.
The revelation was not just in the music but in Wray's vocals, because if you knew his name at all it would have been for his raw guitar playing, notably on the proto-garage hit Rumble from the late Fifties.
Link Wray has always been considered one of the great guitarists of the early rock'n'roll era – which, again, made 3-Track Shack such a revelation – and if you want to hear his visceral instrumental power then this 29-track collection is just the job.
It collects a swag of his instrumentals from the late Fifties and early Sixties (the Early Recordings collection initially released in '79) plus material from the Good Rockin' Tonight album from '82. It closes with his rough-edge '83 take on Please Please Me.
As a plank-spanker Wray took "surf guitar" to the dark side, Chuck Berry to a knife-fight, Western-framed instrumentals to the drag strip and Willie Dixon blues close to Blue Cheer (as on Hidden Charms, one of the few songs here with his distinctively ragged vocals).
He could walk a lonely avenue or mix it with the hoodlums.
Link Wray – who died in late 2005 – was a great American outsider whose music was consistently acclaimed by the Cramps, Bruce Springsteen (who invited him to London to play a few songs at shows when the Boss was there in '82, including I Fought the Law as the encores) and Jimmy Page who said in the Jack White doco It Might Get Loud that he had been a major influence.
Iggy Pop, White, Pete Townshend and others have all said much the same.
When we wrote about Wray previously we offered a potted history of his life, but what you need is just to hear is this rubbed raw rock'n'roll overview and that 3-Track Studio collection.
Legendary . . . and loud.