Graham Reid | | 1 min read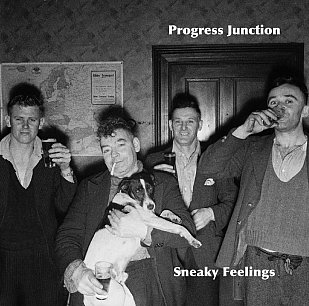 One of the most musically ambitious and interesting band in the first decade of Flying Nun who sets their sights on pop-rock, Sneaky Feelings often seemed ignored in the haste at the time to acclaim the indie spirit of other bands over the craftsmanship this group applied.
The irony was that the Chills, who also harboured mainstream acclaim, were frequently considered the more acceptable in critical circles.
Elsewhere has recently gone in to bat for Sneaky Feelings and now, with all members of the band back in the same country after decades apart they have reformed and produced this delightful album of mostly folk-flavoured pop-rock which, while retaining its former influences from mid-period Beatles and shimmering West Coast rock also hints at other listening.
The sound of Scotland's Postcard label was always somewhere behind their more discernible touchstones: Check out the Martin Durrant-penned Coming True, one of the many excellent songs on their essential '99 compilation Positively George Street released at the time of singer-songwriter Matthew Bannister's recommended band autobiography of the same name.
There's a further reference point to Scotland here: Among the many fine songs on this 13 song collection is Castle of Dreams which has more than a skerrick of the Proclaimers about it. (And let's be clear, that is a very big compliment. The much maligned Proclaimers are among the finest and insightful songwriters around.)
Certainly the Beatles influence remains a largely subliminal reference, but here – in songs of almost domestic intimacy, breakups, perhaps a little pointed comment about their past travails, the Christchurch quakes as a metaphor for emotional dislocation and relationships pulling apart (the very moving I Don't Blame You) among other things – there is musicianship which pushes these songs well above the ordinary: The country-goes-psychedelic guitars on Mettle; the spirited and driving rock of Other People's Lives with a horn section; a delicious George Harrison-styled guitar on the lovely You Never Know which is about love and loss and the remembering; the effortlessly melodic songs like Eyes on the Horizon, the featherweight warmth of First Family; the piano on I Don't Blame You . . .
Introduced and interpolated by sound samples taken from films and radio snippets of New Zealand's past (nodded to in their twist on the domestic tourism slogan "don't leave home until you've seen the country" on Can't Get You High), this album – which closes with the wry but jaunty title track which appears to be about the devastated Christchurch and damages in our longer past – confirms that Sneaky Feelings not only had it then, but still have a mainline connection to a long and diverse lineage of pop-rock and folk-rock which they adapt to their own purposes.
And present as something uniquely borne of this country and aspects of its psyche.
This is an album which rewards anew on each hearing.
They have got better with age . . . and no, that is not them pictured today on the cover.
Matthew Bannister has released a number of albums under various guises, you can read about some starting here. Elsewhere particularly recommends his album Evolver.