Graham Reid | | <1 min read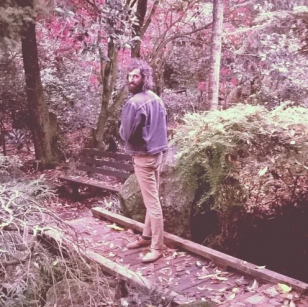 Elsewhere has long had an affection for slightlydelic and drone-based folk which comes with sitars and such. We remain unwavering in our enjoyment of the Incredible String Band and Shawn Phillips for example.
So in that regard local singer-songwriter Arthur Ahbez - who we interviewed back in 2014 -- is one we are always going to find some pleasure in.
Even more so than his impressive if little heard debut Gold, this outing -- especially on the 14-minute four-part The Painters Portrait which opens this -- is very Indo-infused folk with drones, sitar and tabla alongside his acoustic guitar and sometimes quite ethereal vocals.
Elsewhere he plays a more straight bat to folk-pop: Across the Glass which comes from a similar place as some of the best Flying Nun folk-pop, with organ; the five minute-plus Byrdsian Once Again which is more downbeat despite its guitar jangle, a Hank Marvin-like solo, trumpet and high vocal line; the lovely Walking in the Rain which closes the eight song collection . . .
This seems very much a game of two halves but each is as appealing as the other, in different ways.
If you prefer inteligent folk-pop with deft embellishments then start with the second half from Across the Glass onwards.
Me, I've been largely stuck on the themed first half.
Well worth seeking out.
Available on the usual streaming/download services.