Graham Reid | | 2 min read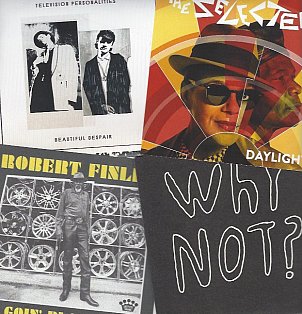 With so many CDs commanding and demanding attention Elsewhere will run this occasional column which scoops up releases by international artists, in much the same way as our SHORT CUTS column picks up New Zealand artists and Yasmin does with EPs.
Comments will be brief.
.
The Selecter: Daylight (DMF/Southbound)
One of the great bands of the 2-Tone era and with singer-writers Pauline Black and Gaps Henderson out front, in recent years The Selecter never seemed quite as timelocked as some of their fellow travellers. On this new album released late last year but here mentioned because they share a bill with The Beat at Auckland's Powerstation on January 24, they sound are relevant as ever and their brittle but deep-skank quite compelling. Politics and dance was their forte – beyond their multi-cultural line-up – and here they deliver both in 10 contained songs, most of which stand as the equal of their best . . . with more rockist guitars in places and Jools Holland on the string'n'horn stabbed title track. Recommended.
Pass the Power by The Selecter
Robert Finley: Goin' Platinum (Easy Eye Sound/Warners)
Being produced by the Black Keys' Dan Auerbach and on his new label, with (among others) guitarist Duane Eddy and featuring soulful material written by the likes of Nick Lowe and John Prine might just help this second album by the sixtysomething soul-bluesman singer-guitarist out of Louisiana get attention and maybe even hit the target which the album title identifies. With its arrangements for piano, horns and vocalists, it may sound a bit clean for some blues listeners but there's often an uncomfortable subtext to that position. (Why should black artists have to sound like they've just crawled out of a juke-joint?) There's pop-blues here (Honey Let me Stay the Night and real Love is Like A Hard Time with their feet in the Fifties) alongside soulful consideration ballads (Complications, the lovely Southern soul of Empty Arms), swampy funk (Medicine Woman) and – almost against the odds given how gruff he can sound elsewhere – a real cracked and broken Al Green falsetto moment on Holy Wine.
Empty Arms by Robert Finley
Half Japanese: Why Not? (Fire/Southbound)
Rejoicing in their cult status, Half Japanese – whom we have written about previously – here almost sound like they are making a bid for pop-rock of the kind where Velvet Underground minimalism collides with chords and choruses more familiar for heartland bands, if those bands had been fed a diet of sci-fi (Zombie Island Massacre, Demons of Doom, Spaceship to Mars) and surrealism and were prepared to deliver in a strangled whine that Jad Fair has turned into an art form. They use/appropriate/parody Bo Diddley's famous beat, cheap Sixties pop, turn in songs which will charm Jonathan Richman and Robyn Hitchock aficionados . . .
In a career of about four decades they have made one of their most approachable albums which is both odd but appealing, different but somehow happily the same as it ever was.
Demons of Doom by Half Japanese
Television Personalities: Beautiful Despair (Fire)
The long-running British pop-rock band which emerged in the late Seventies fronted by writer Dan Treacy (and a revolving cast of members down the decades) were never punks and really only post-punks by emerging in the wake of that cultural meltdown. They even took a poke at that revolution with Part Time Punks on their 78 EP Where'd Bill Grundy Now? Which became an unlikely hit. TVP managed to combine witty and often pointed lyrics (early song titles included I Know Where Syd Barrett Lives and Salvador Dali's Garden Party) with a very British references (the cover of their debut album And Don't the Kids Just Love It was a photo of the Avengers' John Steed and model Twiggy) and a kind of bent folk-pop psychedelia in the manner of early Barrett-era Floyd. They were rarely frontline contenders but often quite interesting (and sometime political). However this collection of songs by Treacy and multi-instrumentalist Jowe Head (recorded in Head's flat in 1990) is billed as a "lost album" and as such, despite fine moments among the 15 songs, really is one for enthusiasts. Newcomers should track down their Yes Darling, But Is It Art collection of early singles. Quirky lo-fi recordings of which the late Mr Barrett might have approved.
Suppose You Think It's Funny by Television Personalities