Graham Reid | | 2 min read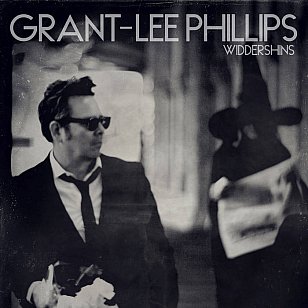 Back in 2004 when we went on a two month, mostly aimless drive around the Southern USA, I only took one CD from home but on the first day out of LA as we headed east I banged it on.
It was Grant-Lee Phillips' glorious 2001 album Mobilize and the lead song became our repeat-play. It was See America, a dreamy, weightless electro-pop affair about weariness and travel which has the chorus, "We're off to see America, we're asking for direction yes . . ."
Mobilize has long been a favourite Phillips album but many others – notably Little Moon of 2009 – are close behind.
He has walked a line between pop (see his covers album Nineteeneighties), indie-rock and Americana (check Virginia Creeper, Walking in the Green Corn and The Narrows where he explored his Native American heritage).
But on Widdershins there is a palpable sense of socio-political and personal unease which is some distance from the domestic pleasures on Little Moon.
That has often been evident in his catalogue but now songs like the catchy and acoustic pop of King of Catastrophes is pointed towards the Trumpists and their hero, but Unruly Mob looks into history as Marie Antoinette considers the rabble of citizenry rising up with their pitchforks and coming up the stairs for her.
There are references to child slave labour and the class system (Miss Betsy in which a small child can wriggle into spaces an adult couldn't) and the title of Another, Another, Then Boom speaks for itself although he provides a simple, engrossing, downplayed pop melody to carry it.
And his almost nursery rhyme closer Russian Doll is an astute, pointed poke at the presidency of the unpredictable Donald Trump using an appropriate metaphor.
So Phillips takes a long and intelligent consideration of the cycles of history ('I've read too many books" he sings, images of walls abound: a garden wall, one in Berlin) but couches his lyrics in songs which can have a desperate Costello-like pop-punk urgency (Scared Stiff, The Wilderness where he says he "can't tell men from monsters . . . you become the very thing you fear . . . we never left the wilderness")
Or they come wrapped in those memorable and distinctive melodies which have been a feature of his work (the gentle country-twang on Totally You Gunslinger, the thoughtful History Has Their Number which harks back to his early solo work after leaving his post-punk band Grant Lee Buffalo).
Nashville-based Grant-Lee Phillips belongs to that group of songwriters – like Jules Shear, Josh Ritter, Joan Osborne, Matthew Sweet, Beth Hart, Paul Westerberg, the late Robert Fisher of Willard Grant Conspiracy, Josh Rouse and many others – whose music you catch on an early album and then faithfully follow them while they go largely overlooked by just about everyone else.
This Phillips outing speaks to that great unease and uncertainty in geo-politics when it sometimes seems the lunatics have taken over the asylum: Great Acceleration nails that so-called choice offered between two evils, footsteps on the stairs, the myth of the greater good and so on.
Widdershins delivers its doubts and concerns with intelligence, dark wit and sometimes desperation. Which means isn't his most approachable outing (check out Mobilize on Spotify for that one).
But it comes straight from the head through the heart and questions what we have become.
Or perhaps the tooth-and-nail wilderness we have returned to.