Graham Reid | | 2 min read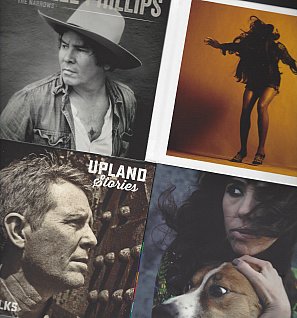 With so many CDs commanding and demanding attention Elsewhere will run this occasional column which scoops up releases by international artists, in much the same way as our SHORT CUTS column picks up New Zealand artists.
Comments will be brief.
Grant Lee Phillips;The Narrows (YepRoc/Southbound): This former frontman/writer for Grant Lee Buffalo has released a string of excellent solo albums (his superb Mobilize of 2001 was our traveling companion on a three month drive across the US) and this one counts among his best. He reaches back into his Native American heritage (Creek, Blackfoot and Cherokee) for a folk-rock Americana cycle of thoughtful, precisely realised and often gentle songs which refers to his ancestry – in lyrics and even more subtlety in the music – and which tell Southern stories, of the Trail of Tears and sometimes cruel fate. Phillips has an engaging and distinctive voice, the spare musicianship is supportive, the stories personal and compelling. Recommended.
Robbie Fulks; Upland Stories (Bloodshot/Southbound): As with Phillips above, this alt.country, folk Americana-cum-honky tonk singer-songwriter is someone you heard once and follow slavishly, or he just went right past you. Elsewhere is of the former persuasion (admittedly because we love his version of Cher's Believe on his terrific double live Revenge! of '07). Upland Stories dials the moods right down to an expanded acoustic setting produced by Steve Albini for a collection of intimate story-telling where the subjects are bitter-sweet (the early Dylan delivery of America is a Hard Religion), close to Southern Gothic in places (Never Come Home), philosophical, wise and sometimes touched with acerbic wit (the faux-traditional Aunt Peg's New Old Man). Country-folk with its roots in history but its eyes on the present.
Never Come Home, Robbie Fulks
9Bach; Anian (Real World/Southbound): This contemporary folk outfit recently won the BBC folk award for their previous Tincian (about which we said, "an album which beguiles as much as it gently bewilders" by virtue of it being in Welsh and its world music reach). This handsomely presented collection of 11 equally engaging sounds along the border of ethereal/alt.folk and world music influences comes with an extra standalone disc entitled Yn dy lais/In Your Voice featuring Peter Gabriel and actor Rhys Ifans among others reading and reinterpreting the songs. There's also a useful booklet which explains the songs and offers translations (and they deal with weighty issues). However as they say, they "don't see language should be a barrier at all" and certainly their folk-into-triphop, clever arrangements, dub and Mouth Music influences, chill-out atmosphere and the airy quality of Lisa Jen's vocals get past that hurdle. Another disturbing but often delightful album from this smart source.
Si Hwi Hwi, 9Bach
The Last Shadow Puppets; Everything You've Come to Expect (Domino): A mere eight years after their first outing together on The Age of Understatement, Alex Turner of Arctic Monkeys and Miles Kane of Rascals reconvene for another installment of classy Sixties-styled, European-influenced pop which – courtesy of excellent string arrangements by Owen Pallett – allude to Phil Spector, Roy Orbison, Burt Bacharach, the Walker Brothers, Bond soundtracks and so on. More immediately engaging than its predecessor, this one might still be a side project for these two but its sense of tongue-in-cheek melodrama, economic pop with elevating strings and smooth delivery is actually rather good. Non-essential but enjoyable nonetheless.
The Element of Surprise, Last Shadow Puppets