Graham Reid | | 1 min read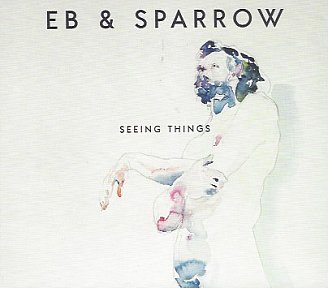 In which Ebony Lamb makes a convincing leap from the broadly alt.country/dark folk territory into a singer of brooding soulfulness and coiled constraint (The Timbers, and Death which opens this impressive nine song collection).
Here too however are persuasive reinventions of her classic, yearning country balladry (the lovely Baby Blue Eyes, the soaring and sensual Working) and timeless songs (the ethereal depths of "those boys [who] sing on their knees all about the sinners, heaven to me" on the melodically addictive Mt Vic) to the killer double-whammy at the end with the emotionally deep Prodigal and the sense of release/relief and reconciliation in My Old House.
This journey can often be as surprising as it is powerful.
With the excellent band (lap steel, electric guitars, horns and strings) given clarity and space by producer Brett Stanton – interviewed for Elsewhere here – this is both a step sideways and an impressive vault upward into a different and more rewarding musical landscape and ethos.
It keeps elements of her past work (the excellent Orbison guitar twang from Gram Antler) but allows for new voice and persona – with reference points in bands Mazzy Star and Luna, Grant Lee Philips' recent country-edged work as much as Patsy Cline in a red dust desert or Fifties country ballads – to flower and flourish.
Great songs, great album.
EB & SPARROW SEEING THINGS TOUR DATES
MARCH 29 Wellington - San Fran 7.30PM
APRIL 6 Nelson, Deville Café & Bar 8PM
APRIL 7 Onekaka, Mussell Inn 7.30PM
APRIL 13 Auckland, Tuning Fork with Carnivorous Plant Society 7.30PM
APRIL 14 Hawkes Bay, Haumoana Hall 7.30PM
APRIL 20 Dunedin, The Captain Cook Hotel 8PM
APRIL 21 Christchurch, Bluesmoke 8PM
APRIL 27 Whanganui, Lucky Bar 8PM
APRIL 28 Kimbolton, Sculpture Festival (day event)
APRIL 28 Palmerston North, Joseph Street Kitchen 8PM
MAY 11 Wairarapa - Kiwi Hall Featherston 8PM

MAY 12 Gisborne - Dome Theatre 8PM