Graham Reid | | 1 min read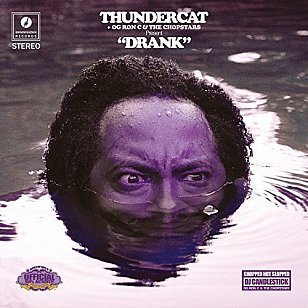 For a guy who goes by the provocatively loud sounding name Thundercat and whose showing the Auckland City Limits festival ran headlong into virtuoso playing and very quickly shapeless jazz-funk noodling, singer/multi-instrumentalist Stephen Lee Bruner's Drunk album of last year was a very mainstream, almost MOR, retro jazz-lite outing with vocal guests Michael McDonald and Kenny Loggins alongside Kendrick Lamar, Pharrell Williams, Wiz Khalifa and others.
It was as close to yacht rock as any of the black artists might get and although you admired the warm balm (and the sly humour, check Tokyo) it offered, if it had come from any other source it might have been largely dismissed. Yet it appeared in many "best of" lists.
So how you respond to this remix album might be determined by how much you knew or liked the original.
OG Ron C and DJ Candlestick of the Houston-based hip-hop crew the Chopstars actually pull the material into much most interesting directions, notably by slowing the grooves, chopping out much of the original lush instrumentation, dropping some bong-brained and lazy raps across the top and . . .
It's a stoner trip for sure and "just sip it slow" as Khalifa counsels at the end of Drink Dat which segues into an equally languid remix of Lava Lamp then (with Thundercat as Barry White) we are into the smooth McDonald and Loggins piece Show You the Way which sometimes sounds like a 45 played at 33.
These Chopnotslop remixes allow Thundercat's exceptional bass playing (think Stanley Clarke and Jaco Pastorius, he's that good) to mostly remain intact – it drives the motor behind Uh Uh with piano and scratching added – but shifts the coordinates away from familiar MOR jazz-fusion and into something slightly more challenging . . . although much of the humour remains intact.
Not everything succeeds of course, the funky groove of Them Changes which sampled the Isley Brothers (the "nobody move there's blood on the floor" track) is sidelined in favour of a kind of astral wash of programming.
But mostly this album – which runs the tracks together – comes off like a smoke-infused chill-out room at 3am.
And you don't need to have heard the original album to appreciate it. In fact, to these ears, it's better you haven't.
Drunk fans however might not get Drank, if we might be . . . blunt?