Graham Reid | | 1 min read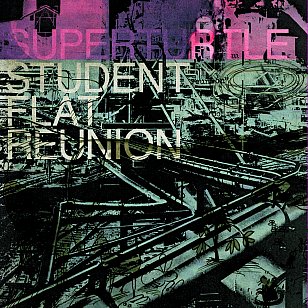 Superturtle is the project of Darryn McShane who has had a considerable career in various bands (Chainsaw Masochist and Figure 60 the most notable), as a bFM host, sometime music writer and producer/engineer.
The last time we spotted him/Superturtle was back in 2013 with the Beat Manifesto album and then – as with the previous album About the Sun – we noted how much pop history (from indie.rock, psyche-pop, New Wave and so on) was distilled into their sound.
From the opener Changing Lanes here you may feel suddenly transported back to the days of Mi-Sex's electronic pop-rock and the synth-pop ethos of emotional dislocation and aloofness.
"I hear a voice and there's no one there" which opens the slashing It's Not Me Talking perfectly encapsulates the idea.
"It's who you know not what you know, it's the industry," McShane asserts on the cynical Industry
This is all very 1982.
However the slightly dyspeptic attitude is tempered by music which evokes a strange carnival (Hit the Floor), or searing and clipped rage over thick guitar textures (That's What You're Looking For, Mr Senseless).
But as always there's more going on here than that: La Da De Da is melancholy jangle pop (think Sneaky Feelings meets Bowie without the heroics); Who Put the Knives On is 90 seconds of pop energy; Crawling the Wall rides a lighter touch of pop ("sometimes it seems like nothing much matters") and the wry Carry On takes off from there and could almost be a Monty Python message of mindless optimism; the stalking and threatening title track would certainly put you off any catch-up with old flatmates . . .
The short instrumental Intermission perversely arrives more than two-thirds the way through and Somewhere Different is crisp and lemon-bitter power pop.
Silver Lining right at the end is certainly that.
Neatly coloured by synths, organ and Aletta Ashdown's backing vocals, these 19 songs, as with Superturtle's previous albums, touch a lot of reference points and certainly across that many songs cover a lot of territory which will, for older heads, convey an enjoyable sense of deja-heard.
The past is always present and here it morphs into cohesive songs of economy, humour and sometimes quiet anger.
Superturtle's Student Flat Reunion is available on vinyl (13 songs) with a CD (the other six). It is being launched at the Thirsty Dog on Auckland's K Rd on Saturday October 27.
For Superturtle albums and others on the Sarang Bang label see here.