Graham Reid | | 1 min read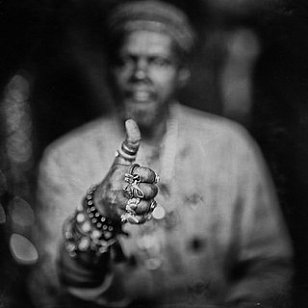 For a singer, 68-year old Lonnie Holley is an interesting sculptor.
And while this album – only his third I believe, his first for Jagjaguwar – is not without interest (and it's black politics part of an important lineage) it is his backstory which is worth hearing first.
About 35 years ago he began creating sculpture out of found objects then moved into painting. Known as "the Sand Man", he created numerous objects around his home in Birmingham, Alabama where he was born (one of 27 children, he apparently has more than a dozen of his own).
His work can be very impressive (check his website here) where there is an interesting video film of him . . . but you can also see why some people look at it and say it looks like a pile of garbage.
As to this album, it is certainly unusual but grows on you.
Imagine a less melodic Van Morrison declaiming and yearning while reaching into deep corners of the black experience on I Am a Suspect, I Woke Up in a Fucked-Up America and the extraordinary, dreamlike 18-minute I Snuck off a Slave Ship where he likens the life in America for many of his people like being on just another such vessel.
You can't deny the power of these statements nor the ache he brings to Back For Me ("come back for me great spirit") or how he can draw line between pre-rap black poets and writers of the Sixties, Seventies soul, Sun Ra, a bit of tortured Van (How Far is Spaced-Out?), touches of funk and jazz settings which won't frighten Art Ensemble or Kamasi Washington fans.
Some lovely piano passages and synth settings, clever overdubbing of his vocal lines, his friend Laraaji on There Was Always Water and right at the end he offers the throughly enjoyable corollary to some of what has gone before with Sometimes I Wanna Dance.
This is largely some powerful stuff delivered by one of the most distinctive voices you might hear, even if sometimes he does seem to broadcast on a narrow melodic frequency in many songs which reach the seven minute mark.
But the ache of desperation, and the arrangements, he brings -- along with pointed lyrics -- get this one away.