Graham Reid | | <1 min read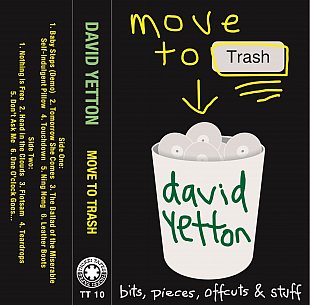 Subtitled "Bits, Pieces, Offcuts and Stuff" this seemingly modest and quiet collection of 12 pieces comes via Thokei Tapes out of Germany which has been doing interesting things for New Zealand artists such as their releases by Tall Dwarfs, David Pine, Matthew Bannister and Chris Knox on cassette tape.
David Yetton – of JPSE and Stereo Bus – has always been a writer to respect and there are pieces here (like the sinuous and increasingly menacing Leather Boots, the demo of the gentle Baby Steps, the whispery psychedelic ballad Nothing is Free) which are much more than mere bagatelles.
The dreamy Tomorrow She Comes is a real melodic delight as light as a cloud which evaporates into invisibility towards the end; Touchdown could easily be given a somewhat more widescreen treatment to become a stone delight of powered-down jangle pop; Ning Nang is a glistening ambient instrumental . . .
These often wistful bits and pieces all sound like they had to be recorded quietly for fear of waking someone in the next room, and that gives them a warm intimacy and sincerity.
Thokei release this on collectable cassette (with a download code) but it is also available on Spotify.
David Yetton's offcuts are better than many others' laboured, finished work.