Graham Reid | | 1 min read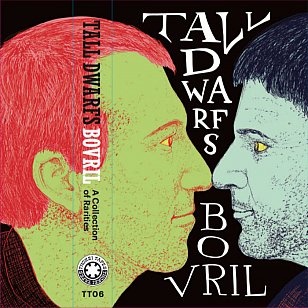 Officially sanctioned by the Tall Dwarf-men Alec Bathgate and Chris Knox – as was the earlier Knox compilation KnoxTraxFine and the Matthew Bannister album Birds and Bees -- this tape-only release from Thoeki in Hamburg gets together in one convenient place (if you have cassette player) rarities, oddities, live material, solo outings (more recent Knox with the Rackets on Gagarin, Bathgate on the unreleased Crushed Velvet) and more.
It draws from such diverse sources as the Marc Bolan tribute album Great Jewish Music (Ride a White Swan), the Enemy live at the Windsor Castle (with the raw 1978) and Flying Nun compilations (Under the Influence, God Save the Clean, Abbasalutely) which have long been unavailable.
There are also 10 International Tall Dwarfs tracks from recordings in the Helen Young Studio of Radio NZ with the likes of Scott Mannion, Stefan Neville, Sam Hamilton and Kingsley Melhuish. It is excellent (tip of the hat to recording engineer Andre Upston who has the best ears in the business) because the session was funny, casual but professional, and clever. And the Dwarfs songs were reinvented as more downbeat for "a general audience" to reveal their musical essence and craftsmanship.
They became so much more musically approachable than many preconceptions of TDwarfs might allow. Closer to alt.folk than alt.rock.
And because these 26 songs across the cassette were mostly recorded with a view to release or broadcast, they are actually very powerful – check the increasing tension and density on their version of Straitjacket Fits' If I Were You – and remind you of what a great pop sensibility they had . . . and not just on their version of Abba's On and On and On.
And evident also is how they could just pull this music – whether it be a manic version of The Brain That Wouldn't Die for Forced Exposure or the charm of the acoustic but dark Hospital Waltz and Road And Hedgehog – out of themselves and make it sound infused with do-or-die white-knuckle desperation or seduce you in with subtle melodies. (As on The Slide which remains the most melodic argument for euthenasia for the terminally ill you are ever likely to hear).
Of course this collection, by virtue of its format and being footnotes to more readily available material (a wedge of which is on Spotify) is for the completist/enthusiast/uber-fan.
But we bring it to attention with a genuine recommendation, even if it reminds how much we miss the genius of Chris Knox who suffered a debilitating stroke in 2009, and how he and Alec made such different and wonderful music together as, initially, Toy Love and then these even more interesting and long-lived Tall Dwarfs.
Get this, even though you might have to buy a cassette player or dust off the bottom-drawer Walkman.
(Actually you don't have to buy the tape unless you want the cassette artefact which comes with a free download. You can buy the music digitally from Thokei here.)