Graham Reid | | 1 min read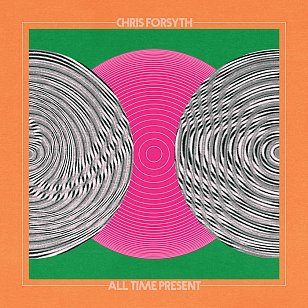 One part of American guitarist Chris Forsyth's output has been what we might call avant-guitar (atonal, distortion, experimental and so on with Peeessye) but the other part – more evident on this album under just his own name – is in the rock lineage (with the Solar Motel Band, among others).
His reference points in the latter start somewhere around Richard Thompson's folk-into-rock from the late Sixties, Neil Young (in electric mode) and Jimmy Page (without the bombast) through Tom Verlaine's spiralling and melodic invention in Television (Forsyth took lessons from Verlaine's co-guitarist in that band Richard Lloyd), the spiritual intensity of the late Roy Buchanan, Robert Quine's solo work and on to J Mascis' more psychedelic offerings.
Oh, and there's some alt.folk in the mix too.
With a number of his previous fellow travelers, Forsyth here reinstalls electric rock guitar aesthetics into the landscape at a time when so many deride it as being an outdated genre.
To achieve that he applies his formidable skills across a number of related styles: the nine minute Mystic Mountain early up with his own passable, emotionally dismissive drone-vocals scales rock-folk heights with adrenalin-inducing intensity, the 11 minute Dream Song (with dream-psyche vocals by Rosali Middleman) brings to mind the technocolour soundscapes of Seattle's Sky Cries Mary and other neo-psychedelic bands, and The Past Ain't Passed takes its lead close to free-form Indo-folk with cymbal washes. And despite suggestions it might break out remains firmly locked in that experimental zone for its full nine minutes, where directions are more often suggestions than paths to follow.
This double album can be intense and demanding, but the more gentle The Man Who Knew Too Much (and maybe the more familiar structures of New Paranoid Cat and Livin' on Cubist Time) placed as a breathing spaces should soothe furrowed brows.
But it all leads to the exceptional 20 minute closing piece Techno Top which, as its running time might suggest, works its way slowly into a jam which opens with something akin to the oppressive minimalism of Marquee Moon-gone-motorik then steadily expands as it ups the tension and dynamics into a relentless groove over which he weaves clever, repeated filagrees and riffs . . . before everything cuts back to a spare pulse. Then the whole goes out with six minutes of constrained Verlaine-meets-Thompson playing which is as distilled as it is thrilling.
It is a magisterial piece of rock-meets-techno groove which will either have you white-knuckled for the duration, or bailing at around the 10 minute mark.
All Time Present is perhaps mostly an album for those still believe the electric guitar, in the right hands, still has something to say . . . and are prepared to rise to its challenges and very considerable rewards.