Graham Reid | | 1 min read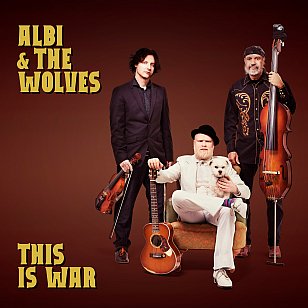 One of the most interesting and insightful respondents to an Elsewhere questionnaire was singer-songwriter Chris Dent aka Albi of this energetic folk trio.
His answers were thorough and, even now a year on, well worth reading.
That they made such strong and thoughtful music almost seemed a bonus . . . but it's been a while since their debut album One Eye Open three years ago.
This time out with an outside producer (Scott Seabright) and guests of drums (Tom Broom), banjo (Nat Torkington) and percussion (Helena Piper) the trio of Albi (guitars), Pascal Roggen (violin) and Michael Young (double bass) they can extend themselves into different arrangements.
As with their debut, there's a profoundly reflective feel in many songs here as on the old American folk-gospel song Wayfaring Stranger which follows their own downbeat Closing Time and leads into the soulful folk of Oh Father, a cleverly constructed song about how "young love went awry" and the strength of a supportive family.
There's a delightful duet with Amy Maynard (of Looking For Alaska) on the fiddle-colored and emotionally direct ballad I'd Go Anywhere, a lyric which again proves that less can say so much more if the words sound heartfelt.
There are places where the tempo picks up (Something in the Way and It Ain't Easy sound like real crowd warmers), and the closer Canyon has a strange tension in the music behind the intimacy of Albi's vocals in the verses before the band really kicks in for a message of companionship: "I want to thank you for being in my life".
Albi and the Wolves have carved a distinctive path between the poles of introspective bedroom folk and rowdy strum'n'singalong.
When required they can hit those places, but here again something – with harmonies – comes through which celebrate life (and loss) without being too obviously sentimental.
If this is war and a the singer gets emotionally hurt, at least no one crawls away mortallly wounded, or worse.
You can hear the album here on Spotify