Graham Reid | | 7 min read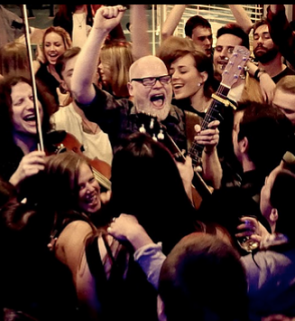 With their debut album One Eye Open of 2016 – which won praise at Elsewhere and them the award for Folk Artist of the Year in 2018 – the hard working trio of Albi and the Wolves brought raw energy and passion to their chosen idiom, and also pulled in ideas from rock, world music, soul, jazz and more.
The trio of singer-guitarist Chris Dent (aka Albi) from Northland, fiddle player Pascal Roggen (who has a degree in jazz from Britain's Guildhall School of Music in London) and double bassist Michael Young (who has played everything from folk to jazz fusion), has made a name for itself on the live circuit (and for their striking tour posters).
Good news then that they are on the bill with Wellington's Frank Burkitt Band and the Slacks for a short tour this month (dates below) which promises to be high energy.
So let's throw a Famous Elsewhere Questionnaire at the likable and intelligent Chris "Albi" Dent to see what he makes of it.
And he makes a lot . . .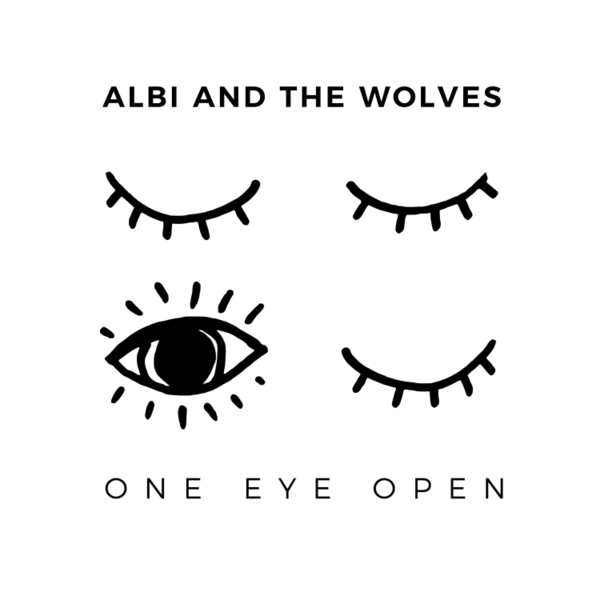 The first piece of music which really affected you was . . .
Ok. This is never an easy question but I think my answer is probably an old folk song called Streets Of London. We used to listen to music in the car a lot and that one always stood out to me and I even learned it when I was much younger. I still like now it because of its haunting simplicity and I think I'd like to write a song like this sometime… It's lovely and honest and pretty and when I listen to it now I still learn little things from its lyrics. What more could you want from a folk song?
Your first (possibly embarrassing) role models in music were . . .
Who made me want to play guitar and sing? Now that is a crazy question.. I always aspired to be a little rocker but I grew up listening to folk music and rock and roll. By that I mean Elvis and Bill Hayley & His Comets. So there is a strange mixture between things pop/rock bands like Blink 182 and folk artists I saw at the Auckland Folk Festival growing up. So David Wilcox stands our because his performances at the festival directly inspired my early sign-writing and it still inspires my performance style even now.
As I grew up I wanted to be in The Pixies, Radiohead and The Mint Chicks… I think it's impossible to give one answer to this question but the most embarrassing one this list would probably be Green Day. We all listened to it and I am moderately ashamed to say that back in the day I loved every minute of it.
Lennon or Jagger, Ramones or Nirvana, Madonna or Gaga, Jacko or Jay-Z?
Lennon hands down.. The Beatles are an institution. Nirvana too hands down but it's their MTV Unplugged concert that helps that dietician. That gig was just amazing. Gaga wins there for a few reasons. She has done a lot of crazy things which I think are pretty cool and her voice is actually amazing and someday I'd love to see her live
If music was denied you, your other career choice would be . . .
Graphic Design or Phycology… I love making art even though I am rubbish at it and I love people too. To learn more about people and help them sort things out would be cool I think. It's pretty much impossible to imagine what life would be like without music but I suppose those two get second equal.
The three songs (yours, or by others) you would love everyone to hear are . . .
There is a B-Side song on our album called Still Friends. I would love more people to hear it because we don't get to play it often but I think it's a nice track… It's in a separate tuning and until we get a guitar tech on the road with us we won't be doing it often anytime soon. So that's 1.
Number two is a B-Side on an Audioslave album called Getaway Car. I think it has a nice grove, I think the melody is wicked and the solo in the middle of the tune is tasty. I will happily advocate for more folks to give that a go.
Number three would be.. .Nadia Reid's performance of Preservation that she did on RNZ last year. It's stripped back with just her, a bassist and a glorious haunting guitar and it is magnetic to watch and listen to. That particular performance of that song is incredible, and I wish very much for many more people to see it.
Any interesting, valuable or just plain strange musical memorabilia at home...
I have a broad assortment of badges and albums from my friends here.. Those include a badge and ring hand crafted by the amazing Ben Dixon, who will be on the road with me and the band shortly, Strangely Arousing's album and the band's condom's to boot. Miho Wada, Pascals our violinists wife, has a few albums in my collection including her punk record from a few years ago which happens to be crazy and awesome. Looking For Alaska, The Frank Burkitt Band, and Paul Simon also fill my collection. Each of these things mean a lot to me as each one has a tour, a great jam, or some cool experience attached to them.
The best book on music or musicians you have read is . . .
Is it terrible that I am just a big geek and haven't read all that many but I have nearly finished Steven King's epic seven-book series The Dark Tower? I love Terry Pratchett, Hunter S Thompson, Ben Elton, and Spike Milligan too. If I was to go out and find one I have heard Scar Tissue by Anthony Kiedis is a great read and it's on my list when I get a chance next tour to give this one a go.
If you could get on stage with anyone it would be?
Could I get Anderson Peak, Paul Simon, Chris Thile, and Feist all together for one gig? It would be a little crazy but bit would awesome be an amazing gig. Also a guest spot form Thom Yorke wouldn't go amiss ether.
The three films you'd insist anybody watch because they might understand you better are . . .
John Wick? No… Um.
Maybe Frank but without the massive anxiety, maybe just a little instead of the extreme. It's a great look into the pressures of creating that "Big Hit" and it's also a little funny too.
The Royal Tenenbaums or The Fantastic Mr Fox because I think it's good to make people laugh every now and then and given the circumstances I am always keen for a big yarn and I am always keen to hear or tell a great story.
Lastly maybe Inside Llewyn Davis but minus the being a complete asshole bit.. It's a interesting look at things and I can compare some small parts of my life to his too. The more I think about this the more answers I have. Little Miss Sunshine will get a mention and so will Me, Earl, and The Dying Girl. I have less specific reasons for the last two but they link in with me somewhat.
The last CD or vinyl album you bought was . . . (And your most recent downloads include...)
The last vinyl I bought was The Reminder by Feist. I think it's a great record and I have loved it for a very long time.. When I am traveling and finding it hard to sleep it's a go to too that helps me slip into slumber every time. As for download the list, in almost exact order is. Father John Misty's new album, The Cat Empire, D'Angelo, Noname, a lot of Paul Simon, Tom Cunliffe's second album, Unknown Mortal Orchestra's new record and The Frank Burkitt Band's latest album Raconteur.
One song, royalties for life, never have to work again. The song by anyone, yourself included, which wouldn't embarrass you in that case would be . . .
Angels by Robbie Williams. I play covers in pubs to help me and my ever going argument with rent. This song has not died and I suspect that it never ever will. So I'd claim that happily and I'd shamelessly laugh all the way to the bank. Hell I'd be so loaded I could buy a house in Remuera, Devonport or Pt Chev.
Actually with that amount of cash I'd just buy all three.
The poster, album cover or piece of art could you live with on your bedroom forever would be . . .
Anything made my mate Adam McGrath. His style is wicked. We actually have a stack of posters on the wall of my flat and his is one. A giant proud A2. I will consider stealing this when I leave and I'll hang it in my room forevermore.
You are allowed just one tattoo, and it is of . . .
I have no idea because needles terrify me. So I honestly have never contemplated having one and I probably never will. But if that was all to change I'd do something a little ridiculous… Maybe a portrait of Jeff Goldblum riding a dragon playing a banjo over a volcano that's erupting. My sentiment is if I am going to do it I may as well go all in and get something that's proper crazy.
David Bowie sang, "Five years, that's all we've got . . ." You would spend them where and doing what?
Ah. What I am doing now maybe with more travel. I play music in bands that make music I adore with people I adore. I think if I could just tour different countries playing tight sets I'd be happy. I really am fortunate to get to work with so many incredible people in my various projects so I'd contentedly do that that. Throw in the girl of my dreams to travel with me too and those five years would be very well spent.
And finally, in the nature of press conferences in Japan, "Can you tell me please why this is your best album ever?"
It's our first one. If you ask me when we release another I'll have to think of a complex answer but for the time being that will have to do.
The Great New Zealand Folk Revival
Tuning Fork, Auckland - Thursday 26th July
Kakaramea Hall, New Plymouth - Friday 27th July
Paekakariki Hall, Wellington - Saturday 28th July