Graham Reid | | 1 min read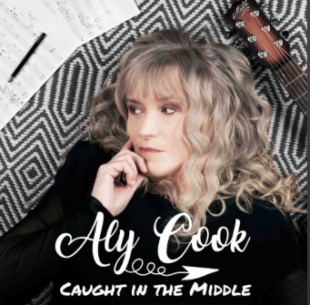 Once again the gifted and independent singer-songwriter Aly Cook has crowd-funded herself into a new album – this her third – which charts a confident course through polished country, earthy Celtic-influenced melodies (The Garden Swing), rootsy acoustic ballads, anthemic feminist affirmation (We Hold Up Half the Sky), poetic stories of heartland people and lives . . .
Although Cook lives on New Zealand's West Coast, the album title here perhaps unconsciously reflects her situation as someone better known and acknowledged in Australia where this was recorded with former members of the Angels and Mondo Rock, pedal steel player John Kaldor, guest vocalist Sharon O'Neill on two songs and others, with production by Buzz (Angels, Jimmy Barnes bands) Bidstrup.
That's the kind of talent prepared to work with Cook whose previous album Horseshoe Rodeo Hotel was produced in New Zealand by Alan Jansson (OMC, Sisters Underground, Nathan Haines' Shift Left, Greg Johnson)
But while she was nominated for female coiuntry artist of the year in 2012 at the National Country awards in her homeland (and nominated for APRA song of the year in 2005), across the Tasman she has toured relentlessly to considerable acclaim.
So, caught in the middle between two countries, it is the bigger one prepared to claim her . . . probably here on the strength of the twanging country-rock opener Red Dirt Road Trip alone.
This album takes in three covers including a live take of Lucinda Williams' Steal Your Love (sounding a little like young Sonny Bono, and that is a compliment) alongside nine originals.
And it confirms her as an authentic voice and writer with songs which conjure up classic Americana, the more earthy end of Nashville country-rock (First to Throw a Stone) and mainstream tear-jerkers: Prize Ribbons co-written with Allan Caswell about the dream deferred but a life well lived, comes with a lyric and melody which wouldn't shame Dolly Parton.
It's a courageous singer who would take on Williams, and Kasey Chambers' material (Am I Not Pretty Enough) let alone John Prine's much covered Angel from Montgomery and pull them off.
But much of Cook's material here – like the hush of the atmospheric and effortlessly melodic Sunflowers near the end and the cabaret-blues of the title track – is their equal.
Tellingly, Cook is undertaking major promotional and touring appearances in Australia before some brief media here in her homeland.
If we let her go, the Australians will claim her as their own.
And that would be a real shame.
She's ours and one of the best in the broad territory of country-soul, country-rock and . . . whatever she turns her hand to, in fact.
Aly Cook told the story of her crowd-funding campaign for this album at Elsewhere here.
You can hear her album Caught in the Middle on Spotify here.
Aly Cook Caught in the Middle New Zealand dates
Wed October 30, Tauranga Arts Festival with John Wright and The Sou'Westers
Thurs October 31, Auckland at North Shore Rugby Club (benefit for North Shore Rugby and North Shore Cricket)
Fri November 1, Rangiora Town Hall (benefit for North Canterbury Wellness Trust)