Graham Reid | | 2 min read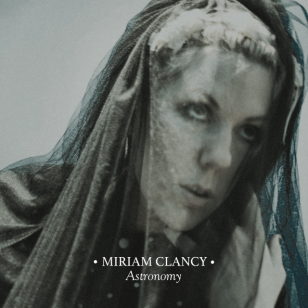 Miriam Clancy has been out of New Zealand for more than five years, and it has been a decade since her last album
Magnetic
which included the extraordinary song Ghost Town.
That was a penetrating view of life from the inside of one of those no-hope suburbs ("around here you've got a permanent cold, the neighbour's tinny put your life on hold")and should have been an APRA Silver Scroll nominee, if not winner, in 2009.
That album and her 2006 debut Lucky One were both in Elsewhere's best of their year lists.
She has been away so long – and her performance profile was never that high in her homeland – that she may well be largely forgotten by many.
But her time in the US, and latterly in New York, has fundamentally changed her sound.
Here with producer Chris Cody (TV on the Radio, Yeah Yeah Yeahs, Beach House, Future Islands and many more), she comes straight out of the blocks as indie dream-pop/Eighties synth-rock artist in a wash of synthesisers and deep beats.
Initially Astronomy brings to mind chugging but melodic shoegaze-pop as realised on programmes rather than guitars, Kate Bush on a diet of electro-pop and a long way from her former self who invited comparisons with Dusty Springfield (on the aching ballads), Lucinda Williams and alt.Americana artists.
Here the reference points are much more in contemporary pop where analogue synths have made a comeback.
A ballad like Over You bridges generations in its sonic architecture – from cute Sixties girl-pop to the sound of today's new wave of thoughtful young women in their Twenties. Love's an Affliction arrives with all the addictive throb and the cool pop sensibilities of Orchestral Manoeuvres in the Dark.
Coloured Lights however is a dense, gloom-pop mood piece which tightens its grip as the tension builds and the relentless backdrop of cycling riffs threaten to swamp her soaring vocal.
It's a stunner, but not easy to assimilate on a first hearing.
And nor is the gothic density of The Bells which is closer to Jesus and Mary Chain on Mogadon while being fronted by a tough-minded Harriet Wheeler (of the Sundays). Another dark diamond.
The seductive Commoner Sky – with another naggingly repetitive synth figure – has some of that forward momentum of Dylan's Series of Dreams with Daniel Lanois.
With its synths, effects and sharp electric guitars, it would be easy to say this is a very new and different Miriam Clancy, and in part that would be true.
But many of these songs were inspired by time on Great Barrier Island looking at that vast, star-cluttered sky (hence the album title, and the impressive title track) and considering the whole damn vastness of life . . . and relationships.
And that intellectual and emotional reach, full of doubt and yearning, remains the human heart which pulses behind the technology.
Those who warmly embraced her intimate earthiness on those first two albums may find this too much of a leap, but once the initial impression is set aside there are songs of great beauty here (Astronomy, Treasure) and some beguiling pop (Over You).
That was Miriam Clancy then, this is now.
You can hear Astronomy on Spotify here.
Miriam Clancy ☆ ASTRONOMY ☆ Album Release Tour

Sun 01 Dec - AUCKLAND - Wine Cellar
Thu 05 Dec - WELLINGTON - Caroline
Fri 06 Dec - PICTON - Le Cafe
Sat 07 Dec - CHRISTCHURCH - Space Academy
Sun 08 Dec - HOKITIKA - Old Lodge Theatre
Tue 10 Dec - ONEKAKA - Mussel Inn
Thu 12 Dec - HAMILTON - Nivara Lounge
Thu 19 DEC - GREAT BARRIER ISLAND - The Currach