Graham Reid | | 1 min read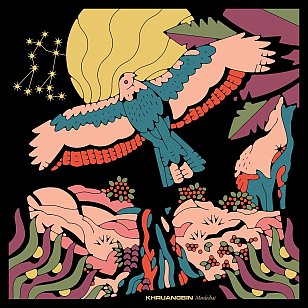 We here at Elsewhere are patient and allow people time to catch up with artists we've championed at the start of their careers.
Like Khruangbin, the trio out of Texas who have perfected a kind of dreamy, psyche-ambience with nods to dub textures, Thai pop and bits of world music.
We hailed their debut album The Universe Smiles Upon You more than four years ago and also named it among our best of 2015 releases.
We were slightly less taken with its follow-up Con Todo El Mundo in 2018 but still directed people to it in our best of that year's releases.
But this time, given the advance buzz, the recent Texas Sun EP with Leon Bridges, and drip feed of video and single, we suspect this is the album which will make Khruangbin all-round firm favourites for a lot of people.
And deservedly so.
To their established template they now add a touch of soul-dance disco-funk (Time You and I, So We Won't Forget), and those hints of various global touch-points from India to the Middle East (Pelota takes you more obviously to Hispanic territories, perhaps the only weak track here) are now so subtle as to be barely present . . . but discernible on careful listening. One to Remember goes back to dub and out by a strange route.
The production allows for distant vocals to act like a translucent screen behind the seductive foreground guitars, the grooves are more supple and shifting (check the leisurely Connaissais de Face), and there is a clever statelessness to some pieces: If There is No Question sounds genre-free or encompassing many, including a hint of the classic What's Goin' On groove'n'hook.
And there's so much more here, including the sun'n'surf suggestion and promise of an Endless Summer.
Mostly notably the former instrumental trio now feature vocals, albeit discreetly or as part of the overall texture of soft sounds.
This is a stone cold, and perhaps even stoner, delight.

You probably didn't hear about this one here first because others will be jumping all over it with good reason. But once you have been seduced by this go back and check out that debut also.
Taken together they are warm and timeless repeat-play albums.
You can hear this album at Spotify here. It is also be available on limited edition vinyl through Southbound Records here.