Graham Reid | | 2 min read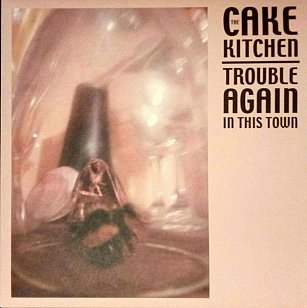 Because it would take far too long to fill in just part of the fascinating career of Cakekitchen's mainman Graeme Jefferies, let us simply default to a recent biography at audioculture and you can follow his peripatetic life which has seen him back in New Zealand in recent years.
His vehicle the Cakekitchen has a long, illustrious and internationally appreciated back-catalogue but Elsewhere well recalls their self-titled Flying Nun EP of the late Eighties and picked up on the 2013 album Calm Before the Storm which remains a fascinating collection of quieter but eccentric songs.
It's a pleasure therefore to receive a new (vinyl) album from Jefferies, especially one which features a seven minute, downbeat version of Paul McCartney's Monkberry Moon Delight in which Jefferies locates some of the darker undercurrents in what was otherwise a madcap, Screaming Jay Hawkins-styled rocker (he actually covered it) . . . and to which he adds his own more personal lyrics.
That unusual, lyrically surreal McCartney track sits reasonably well in this collection alongside the eight originals.
The reductively quirky Trains Are On Time? here might have come from our avant-garde Eighties (Avant Garage/Big Sideways etc) with the nervous energy of early Talking Heads and a $2 bass line.
One of Jefferies enjoyable recording techniques is to run two parallel but different vocal tracks with, every now and again, one of the vocals dropping an octave or so.
Just to keep you alert and add a gentle, unexpected factor.
At times, as on the slow and slightly dissonant My Insatiable Polyfiller (see, McCartney's weird lyrics aren't out of place) this can you throw you off-kilter – in a good way – especially when the lyrics in part run, "My insatiable polyfiller loves your shaven gorilla, you look delicious from the front and from the back and the sequins in your spine somehow erase the sands of time . . ."
There is an oblique, near-pop quality to Fall to Bits and White Line Fever, and the socio-ecological title track ("and we think we know what to do") has a delicate acoustic folk-pop framework.
Previously we have mentioned solo Syd Barrett in the same breath as Cakekitchen but there is something distinctly different going on here, the willingness to play with recording possibilities in a manner which enhances the charming songs – with piano often to the fore as on Too Little Too Late – and lyrics which can be of simple but loaded images ("the rain it falls upon the roof, the cat he sits upon the gate . . . the door it opens and the vultures settle down ").
Or they can juggle childlike wonder with cold adult realities, as on the ballad A Pig in the Sink: "Please come for a ride upon my bike. You! I really like you . . . This week the boss said, 'performance is a mess'. Poor expectations, lots of stress . . ."
Graeme Jefferies/Cakekitchen might appear to only appeal to a dedicated audience, but I've always been pleased to be – and rewarded by being – among that growing, international and appreciative select.
You can buy this album through bandcamp here.