Graham Reid | | 2 min read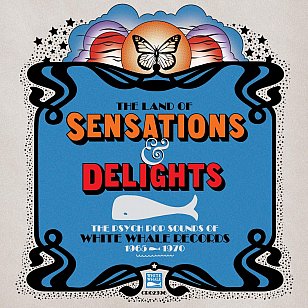 Although some people didn't get it, the Turtles hit Elenore in '68 was pisstake.
Pushed by their record company to replicate the success of Happy Together, the band simply rewrote it with inane lyrics like "Elenore, gee, I think you're swell, you really do me well. You're my pride and joy, et cetera . . .".
It appeared on their album The Turtles Present the Battle of the Bands where they performed in various genres from surf music to psychedelic rock.
Yet Elenore was a hit despite their efforts to subvert their own success.
Turtles Howard Kaylan and Mark Volman soon took their talents to where they were more appreciated, to Frank Zappa.
And their label, White Whale out of LA, lost their cash cow. White Whale folded in '71 after barely six years in existence during which time it recorded a lot of none-hit wonders.
This generous 26 song collection subtitled The Psychedelic Pop Sounds of White Whale Records 1965-1970 allows us to now hear what went right past just about everyone at the time and comes with an excellent booklet telling us just who these people were.
As always there are some who became name players here: Warren Zevon is here with Violet Santangelo as Lyme and Cybell with Song #7 produced by Curt Boettcher; the great producer Bones Howe (Mamas and Papas, Tom Waits) was on hand for the garageband sound of Smokestack Lightnin' on Got a Good Love, the folk-rock of Darlin' You Can Count On Me by the Everpresent Fullness (like a revved-up Lovin' Spoonful) and the Turtles-like pop of Dalton and Montgomery's All At Once.
Laughing Gravy (aka Dean Torrence of Jan and Dean) has a stab at Brian Wilson and Van Dyke Parks' eccentric Vegetables; the Brothers (here playing straight with Randy Newman's tongue-in-cheek Love Story) included drummer Larry Parks who wrote the Newbeats' annoyingly catchy Bread and Butter; the Rockets were the core of later Neil Young bands with Danny Whitten, Billy Talbot and Ralph Molina (Whitten's Won't You Say You'll Stay is light pop and light years from Crazy Horse) . . .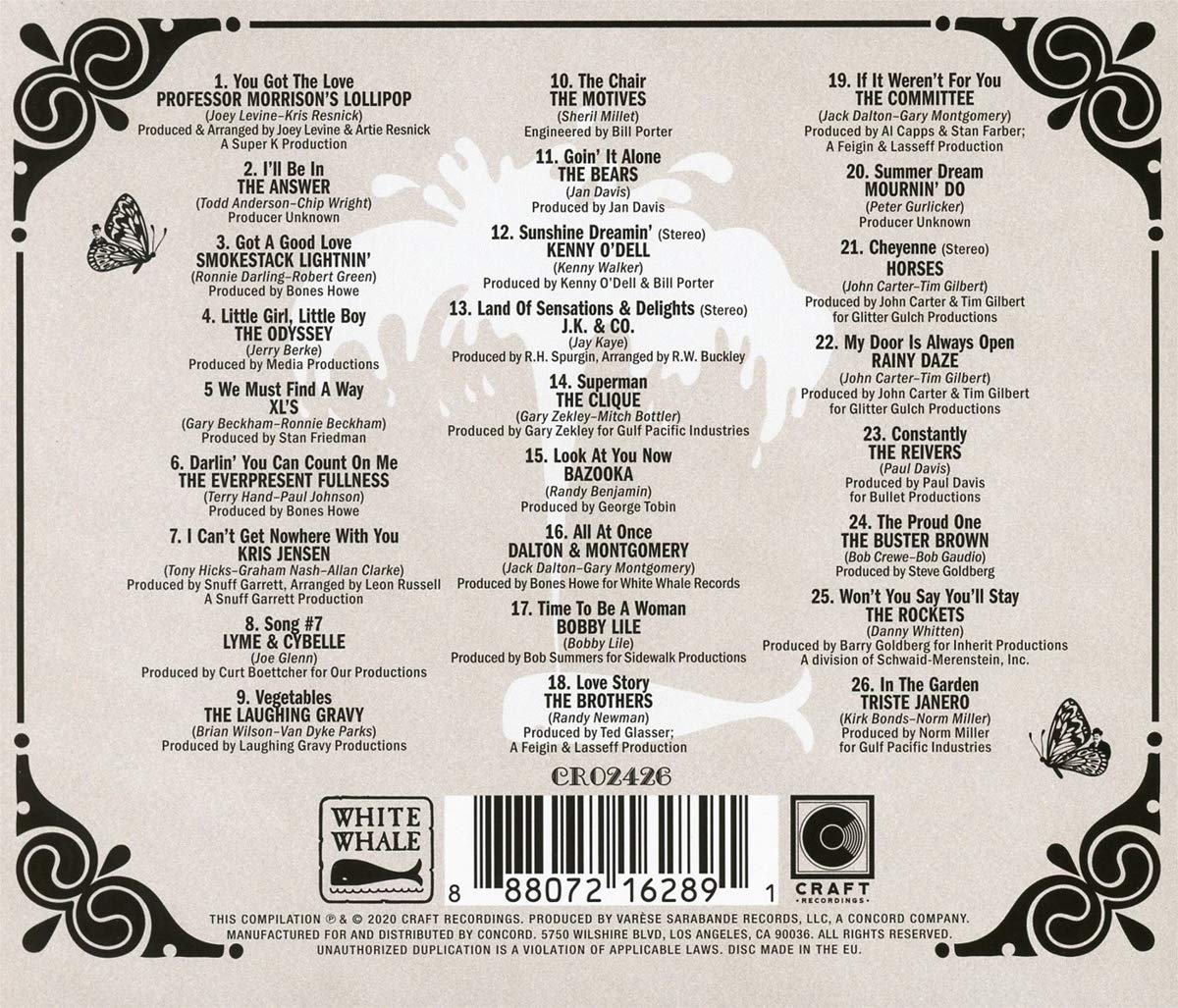 And also as always, there are a few coulda-been hits here, notably the Cliques' drone-jangle pop of Superman (which REM would later cover on Lifes Rich Pageant); the Motives' The Chair is slightly moody piece of pop and then you realise the guy in the electric chair with his head shaven and he's laughing at the world; Rainy Daze's My Door is Always Open Wide is a strange piece of slightly salacious psych-folk written by the team who had penned Incense and Peppermints recorded by the Strawberry Alarm Clock . . .
You Got the Love (by Professor Morrison's Lollipop) is the one garageband start-ups might look to after mastering Gloria.
Quite a few of these songs sound like late-starters in a world which was moving on fast: the XL's We Must Find a Way would have been nice pop if it had arrived in early '65 but it was released the same month as Sgt Pepper; Kris Jensen's '66 song I Can't Get Nowhere With You is a slice of Merseybeat pop written by the Hollies which also arrived two years too late . . .
There are few "psychedelic" songs here: Kenny O'Dell's backporch reverie on Sunshine Dreamin'; the title track by JK and Co; Bazooka's Look at You Now (Turtles vocals-meets-tripped out Lennon music); the strangely appealing Summer Dream by Mournin' Do . . .
White Whale was – outside of the Turtles whose It Ain't Me Babe hit was the label's first release – very much a minor player with what seems like a philosophy of throwing songs and bands against the wall to see what stuck.
None of these did.
And only a few do now.

.
This album and other similar collections can be found at Southbound Records in Auckland, see their website here.