Graham Reid | | <1 min read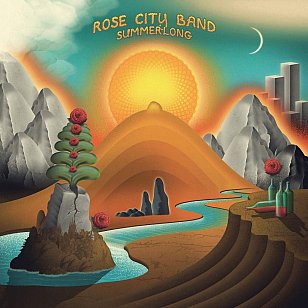 Quite how this delightful, gently psychedelic country-rock album went past us in the middle of the year is a mystery, especially when the man helming it is Ripley Johnson of
Wooden Shjips
and Moon Duo.
But right from the opener Only Lonely – which stands at the midpoint of the Byrds' Wasn't Born to Follow/Ballad of Easy Rider and Neil Halstead's Sleeping on Roads album -- this second RCB album enchants with its rolling guitars and understatement (the whispery Empty Bottles) right through to the double header segue of Wee Hours (think a very polished Clean) with the sublime Wildflowers.
With digressions into a softly-spoken Dylan mid-Sixties (Real Long Gone) and Flying Nun's indie-pop of the Eighties given a country-rock twist (Morning Light).
There is such shimmering beauty here on what is essentially a Johnson solo project that had we heard it even just a fortnight ago it would have been in our Best of Elsewhere 2020 list.
Pure, positive and emotionally uplifting music – under an appropriate album title -- at a time when we need more of it.
.
You can hear this album at Spotify here