Graham Reid | | 1 min read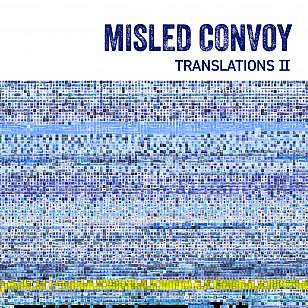 Being a producer means never having to say you're unemployed?
Here London-based Mike Hodgson (half of Pitch Black with Paddy Free) delivers a collection of his Misled Convoy remixes and reimagining of material by the likes of such old school New Zealand figures as FreQ Nasty and the Nomad, Auckland singer Sandy Mill, Mike Weston, Tom Ludvigson and Otis Frizzell who are Cardboard&Computers (on the appropriately titled "Fragmentation Remix" of the de/reconstructed The Best Ones) and of course Pitch Black (on a shake-up of their terrific Rude Mechanicals).
For those who've heard previous Misled Convoy and Pitch Black albums, the surprise here is just much to the fore vocalists are.
Check the innercity assertiveness of Transform with Nasty, Srikala and Luminahdi where you can feel the smell and edginess of a Subway/Underground, and the late Bim Sherman on the mix by Hodgson and Uncle Fester on Acid for the dub/lysergic-fried soundscape remake of Mafia originally by Lloyd Parks of the Revolutionaries.
Let It Go with Sandy Mill (from her A Piece of Me album) has an urgent electro-soul surge and at the other end of the spectrum is the slow burn of Mr Selector by the Nomad.
Unlike many remix or dub albums, Hodgson always brings diversity to the mixing desk and – as with Pitch Black – manages to create a coherent album out of discrete pieces which here weave from electro-dub to spaced-out psychedelics (the glorious Get a Grip using a track by London's Feral Five which makes you yearn for Hodgson being let loose on Primal Scream's Screamadelica).
The smart outcome is that you don't have to know the original material – Elsewhere confesses to only being previously familiar with about a third of the sources, which aren't that hard to find of course – but you can just take this as it plays.
Result!
.
You can hear and buy this album at Misled Convoy's bandcamp page here