Graham Reid | | 1 min read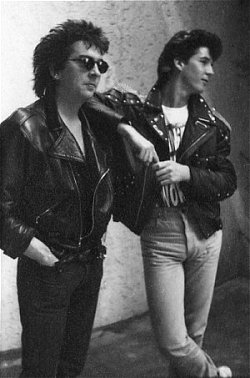 Climie -- or maybe it was Fisher -- almost had me. The conversation was, in the late Eighties, about why so many pop duos were turning up with little or no live experience, and why record companies were signing them.
Climie -- or Fisher -- said that, if you thought about it, the Beatles were essentially just two guys and so were the Rolling Stones: so as a record company you would sign the singer-songwriters and the other guys were just surplus. You don't need them.
And for a moment . . .
The Beatles without Harrison and Starr? The Stones without Charlie and Bill and Brian? Possible, I guess -- but they wouldn't have been the Beatles or the Stones would they? And they wouldn't have been Climie Fisher either.
These two English songwriters -- who hadn't performed live as Climie Fisher when I met them -- were just the next of the cheap duos coming down the highway at the time. But they did have a little something more going for them than Wham or Blue Mercedes (who were never heard of again).
Climie Fisher could actually craft a decent song -- witnessed by the fact that many decades on their hit Love Changes Everything (which I said sounded like they had written for Rod Stewart -- and they laughed and said they had) is still being covered and played today. It was one of a number of good songs on their Everything debut album.
They were in New Zealand on one of those promo tours where all they had to do was talk up their career -- they did that well enough -- and go out to dinner with the record company people -- which they did.
So here they were: the Lennon-McCartney/Jagger-Richards of the late Eighties, shorn free of the hangers-on who didn't write the songs . . .
They were nice enough guys and the odd thing was, they actually seemed to believe what they said.
How strange I thought later.
But I didn't think about them much -- and two years later they had split up as a "band".
Neither of them made a solo album as good as the Plastic Ono Band or Ram or Band on the Run or All Things Must Pass.
Or Ringo's Beaucoups of Blues come to think of it.