Graham Reid | | 1 min read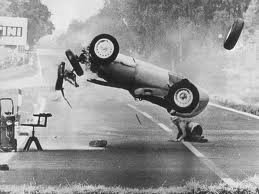 In those years between 1961 and '73 – when Grand Prix drivers "wore lucky charms instead of seat belts" – those behind the wheel seemed expendable. A conveyor belt of new talent signed up and was unleashed on circuits with little or no safety precautions.
This was a terrifying era when the accepted face of Grand Prix racing was something we can barely comprehend today and when, no matter what, the race always went ahead.
The incredibly moving documentary Grand Prix; The Killer Years (Prime, Sunday July 22 9.35pm) covers these appalling times and opens with footage of Wolfgang Von Trips' fatal crash at Monza in 1961, his car becoming airborne and killing 15 spectators.
Then the film charts the following 12 years of racing. Focussing on the crashes of the almost peerless Jim Clark, Jochen Rindt (the first driver to receive the Grand Prix Championship posthumously), New Zealand's Bruce McLaren and Jackie Stewart, who was an integral part of the Drivers Association responsible for improving safety standards.
Apart from the stunning footage, there are interviews with many of the drivers of this era including John Surtees, Emerson Fittipaldi, Jackie Stewart, Jean-Pierre Beltoise and Jacky Ickx. It documents the boycott of the Spa Circuit in Belgium after drivers finally stood up to the racing organisers and that began a turning point in driver safety.
The Killer Years includes the story of the rise of British teams like Lotus who changed the face of Grand Prix forever with their innovation and challenge to the dominance of Ferrari, but also the price that was paid in pursuit of lighter and lighter cars making them fragile and lethal.
It culminates in the harrowing footage of Roger Williamson's fatal crash during the Dutch Grand Prix at Zaandvort Circuit in 1973 in front of a crowd of 80,000 spectators described as "the greatest stain on Formula 1's reputation." The race continues as fellow driver David Purley attempts to save Williamson's life and, broadcast live to a worldwide audience, the complete incompetence by track officials brought safety issues to a head.
Three years later, 1976, would be the first season to not feature any fatalities.
Despite the grim nature of this documentary and sometimes hard to watch footage, it is a compelling story. There is the incredible bravery of drivers who knew they had a one-in-three chance of survival just starting a race, and that a crash almost certainly meant the car would erupt in flames.
But the desire to win, and be the best, burned stronger.
Greg Parsloe was born in Otahuhu, South Auckland during the Sixties and hasn't moved far from there. He has spent most of his working career in the print industry and has a love of typography. A handsome ampersand can make his day. Wants to meet Morrissey and tell him everything will be okay. Is counting down the days until the new speedway season starts Labour weekend. His website is www.gregobro.blogspot.co.nz/

He has previously contributed to Other Voices Other Rooms here and here.