Graham Reid | | 4 min read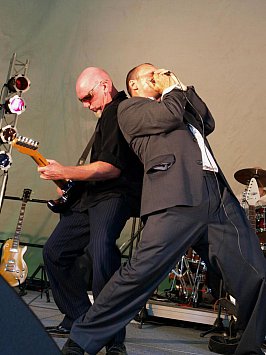 In the late Seventies, like hordes of young Kiwis, I spent my OE in the UK. It was while waiting for a bus in the pouring rain, that I encountered a young punk walking along the street carrying a ghetto blaster on his shoulder that was pumping out a kind of music I had not heard before. I asked the young punk what it was, and he told me it was British rhythm and blues, and the band was called Dr Feelgood.
When I got to my destination, I jumped off the bus and headed straight to the nearest record shop and purchased the first Dr Feelgood album I could find, entitled As It Happens, a live album.
Since that fateful day I have been a fan of this style of music, despite it slipping largely under the radar in New Zealand.
In the early Eighties I formed my first band, and chose to play a number of songs from this genre, including quite a few Dr Feelgood album tracks (not their hits).
When Dr Feelgood embarked upon their second trip to New Zealand in the mid Eighties I was first in line for tickets to their show in Tauranga.
While watching the support act (a Tauranga band called Kokomo Blues) I spotted the Dr Feelgood bass player, Phil Mitchell and, without hesitation, introduced myself to him and told him I was a big fan. I was quite taken back when Phil invited me back stage to meet the rest of the band.
When I walked into the green room, I spotted Lee Brilleaux, dressed in a dark grey suit, sitting in the corner reading the paper and smoking a fag. He put the paper down, stood up and shook my hand, and introduced me to the rest of the band (Gordon Russell, and Kevin Morris).
I told him too I was a big fan and that we played a bunch of their songs in my own band, and he even enquired what songs they were. He seemed quite pleased at my selection - the songs being from the band's most recent release, which featured the current lineup.
He invited me to stay and chat with the guys, which I did, and they were more than happy to sign a page in a book I had taken along to the show with me (just in case!)
As I thanked them for allowing me backstage, and said goodbye -- not wishing to come over like a stalker or anything -- Lee took his enameled Dr Feelgood badge off his jacket and gave it to me.
I returned to the front of the venue in a dream, resplendent with a big smile splitting my face.
Anyway. I spent the entire show dancing to the band right up until they played their last song and left the stage. I was walking off the dance floor when a hand grabbed me by the shoulder. I turned around to find Lee Brilleaux standing there, waving a harmonica in my face, saying "You can play this can't you? Would you like to do the encore with us?"
Now, I don't know if you know much about playing the harmonica, but it's quite difficult when you have a grin on your face from ear to ear, but I did my best.
Needless to say I enjoyed the show of my life so much that I purchased tickets to their gig in Hamilton a few days later.
Not wishing to impose myself upon their hospitality again, I chose to just enjoy the gig from about 12 rows back the crowd. When it came time for the encore, Lee announced he had a special guest to join them, and pointed out in the crowd, and said "Come on! Move aside ladies and gentlemen".
Lee was pointing at me! He had spotted me in the crowd, and invited me up to join the band for two songs.
Is it any wonder I have such a fondness for this band?
I kept in touch with Phil after that, and in 2010 (some years after Lee's untimely demise) I took a trip to Canvey Island, Lee's hometown, to go to a memorial concert for him.
I stayed with Phil and was treated like royalty at the show and also invited to a premiere screening of the Oil City Confidential doco-movie, and meeting guitarist Wilko (although only briefly).
I travelled in the band van to the gigs where I helped out the roadies and helped sell merchandise. At each show I was invited up by the band to do the encore with them.
It was at one such show that I was seen by the organiser of the festival, who invited my band Brilleaux to perform at one of her blues weekend festivals later this year that she hosts around the country.
It is a bit pointless to travel 13,000 miles to play just one gig, so I embarked upon booking a bunch of other shows whilst we were there.
A daunting task when you are so far away, and have so few contacts, however, after only a couple of weeks (and hundreds of emails) a chap by the name of Rob Vernon from Bedford, who had seen me play with Dr Feelgood at the memorial, made himself known, and has made it his business to ensure we have no idle time on our hands whilst in the UK.
Consequently he booked us about six other gigs, and taken over promoting us like we are a Top International Band! (a reputation we will do our best to live up to.)
Not only has he done this, but he is taking two weeks off work to be our tour manager and drive the van for us while we are there! What a legend!
The adventure of a lifetime for a bunch of guys from little old Tauranga.
Graham Clark is a graphic designer/musician from Tauranga -- or the Bay of Plenty Blues Delta as he likes to think of it. He is currently writing a 350 page book on the the history of live music in the Bay of Plenty, which is nearing completion and waiting on a financial backer to get it into publication. (He's skint and doesn't have a spare $20 grand to get it printed.)
Graham says he is possibly the only Libertarian musician in New Zealand, having currently released seven self funded albums with his band Brilleaux -- all proudly not sponsored by New Zealand On Air.
The Brilleaux website is here and one of their albums reviewed at Elsewhere here. Dr Feelgood's Stupidity album has long been an Essential Elsewhere album (see here).
Other Voices Other Rooms is an opportunity for Elsewhere readers to contribute their ideas, passions, interests and opinions about whatever takes their fancy. Elsewhere welcomes travel stories, think pieces, essays about readers' research or hobbies etc etc. Nail it in 1000 words of fewer and contact graham.reid@elsewhere.co.nz.
See here for previous contributors' work. It is wide-ranging.
.
.
.