Madeline Bocaro | | 10 min read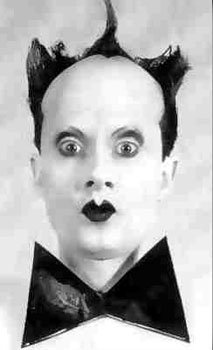 The transitional period between decades is always highly charged with the excitement of things to come, and nostalgia for an era coming to an end.
The Seventies had their final burst of energy with Punk rock, but by 1979, the New Wave was already upon us. Simmering beneath the deliberate crudeness, realism and rage of Punk was a brightly coloured, cosmetic, futuristic fantasy world.
The movement's forerunners were fans of British Glam rock, especially of David Bowie, and had an ironic affection for the danceability of disco, hoping to replace it with a more whimsical, eccentric and sardonic genre. It was time for some fun. The Rocky Horror Picture Show was back in town!
New York City had a healthy club scene in '79. CBGBs still hosted local bands like Blondie, the Ramones and Talking Heads. Hurrah! was the New Wave dance spot. Danceteria and the Mudd Club hosted rock bands.
Discos were booming.
Studio 54 and Max's Kansas City were still in business. Music was becoming more synthesized and Euro-flavored, ever since the Giorgio Moroder-produced Donna Summer hit, I Feel Love ('77) inspired electronic experimentation within dance music. This was usually reserved for New Age or jazz, but now dance music could be taken to the outer limits as well. This new sound was known in Europe as New Romantic.
The dawn of MTV forced musicians to be more concerned with visual appearance. Heavy Metal became Hair Metal.
Soon came the wrath of Madonna.
Meanwhile, a strange, brilliant futuristic fellow from a galaxy far, far away (Germany) had been living quietly in New York City since '72, developing an act and a persona to complement his extraordinary singing talents.
He transformed into Klaus Nomi, and his story is short, but sweet -- and so was he! Had he lived a full life, the Eighties surely would have been more noteworthy. The musical climate was perfect for what he had to offer. Nomi could see the future clearly – in fact, he was already living in it.
French TV Interviewer: "It was said about you that you were either the 8th wonder of the world, or a tragic accident of the nature. What do you think of this definition?"
Klaus: "Oh it's wonderful, it's extraordinary. I hope it's true!"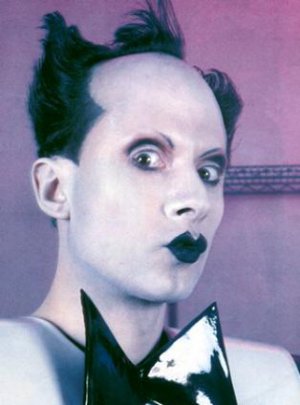 Soon our paths would cross. In '78, I became a regular shopper at the trendy NYC fashion spot, Fiorucci where the Day-Glo colored clothing was made of leather, plastic, rubber and vinyl. Fiorucci was not just a store, but also a whole new scene. They sold clothing by new cutting edge designers, and their own Fiorucci brand.
Andy Warhol frequented the store, which also had all the latest fashion magazines. The newest, coolest music was always played there; Kraftwerk, The B-52's, Blondie, Devo, Bowie, and they had lots of in-store dance parties.
I bought a new Fiorucci outfit each week, and my hair was purple (Manic Panic's Crazy Color brand – Aubergine) with flaming pink streaks.
A Fiorucci manager named Joey Arias (the now famous diva!) would outfit me in some fabulous clothes. Joey's hair was a different florescent color each week. Once it was stenciled in a leopard print!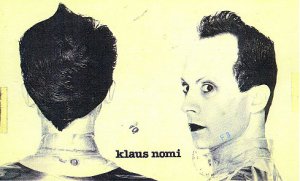 At Christmas time in '79, Fiorucci was selling a postcard with a picture of a strange looking fellow, which read, "Klaus Nomi". Thinking it meant "Merry Christmas" in German, I bought the card (pictured).
On December 15, '79 I was in the TV studio for Bowie's Saturday Night Live rehearsal.
My friend's dad (a VP at WNBC television) apologized for not getting us a seat inside the studio, but in the control room instead. This was even better, since it was right outside the dressing rooms!
The studio was buzzing with excitement. Jane Curtin and Larraine Newman were jumping around yelling, "Bowie is in the building!!" I suddenly recognized Joey from Fiorucci in the hallway. He excitedly explained that Bowie had asked him to sing back-up vocals on the show.
Bowie stood with a weird little guy dressed in black, and introduced him to me as "Klaus Nomi" (Joey Arias turned out to be a member of Nomi's band). I was more excited to see my postcard photo come to life than to actually meet the legendary Bowie.
I was enraptured by this precious creature in exquisite makeup, with pointed hairstyle and a German accent. Klaus smiled sweetly and kissed my hand. His eyes twinkled! He wore the softest black leather elbow-length gloves - quite glamorous. I asked who did their fabulous makeup (the meticulous details were not visible on TV). They boasted that they'd done each other's makeup, "Joey did mine and I did his, and we did David's!"
Boys will be girls!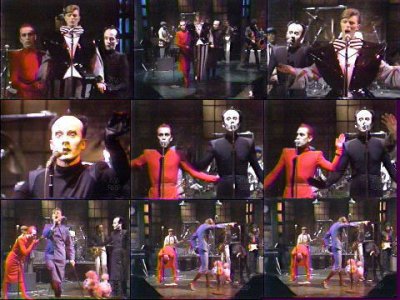 First they performed The Man Who Sold The World. Joey and Klaus had to carry Bowie on-stage because his bizarre sculpted Dadaist costume encased his legs. Klaus and Joey sang backing vocals. You could hear Nomi's authentic, immaculate countertenor quite clearly. It was a wondrous gift that would evoke emotion and astonishment in any listener. Back to the dressing room…
Bowie emerged for his second song -- in a skirt suit (actually, a Communist China airline stewardess style uniform) with hideous gray suede sling-back shoes. It was refreshing to see that Bowie was back to his old glam/drag tricks.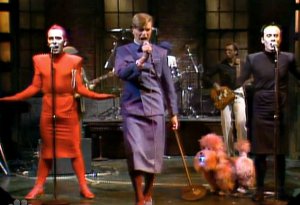 The trio performed TVC 15 then rehearsed their "macho" dance moves for Boys Keep Swinging in the hallway.
For the broadcast, Bowie's torso was replaced by a puppet's body, which Bowie manipulated, using green-screen effects. Although a "questionable" lyric was muted, the censors did not notice the puppet's "excitement" at the song's climax. (All three of Bowie's SNL costumes, along with the pink poodle prop, is touring with the David Bowie Is exhibition.)
I accepted Mr. Nomi's invitation to his next concert at Hurrah! and was honoured to see him perform many times thereafter. Each performance begat gasps and rapturous applause. Anyone could appreciate his pop-operatics. His songs were keyboard-laden with melodic guitar, and Nomi's stunning vocals. The classical arias were captivating, especially with the freaky visual juxtaposition. This was something else completely - something special.
Klaus Sperber was born on January 24, 1944 in Immenstadt, Bavaria, Germany. As a teenager, Klaus worked as an usher at the Deutsche Oper in West Berlin. He would climb onstage and serenade his co-workers after the shows. Klaus also sang operatic arias at a gay Berlin discothèque called Kleist Casino. His favourite singers were Elvis Presley and Maria Callas.
Klaus came to New York's Greenwich Village from Germany in 1972 and became a pastry chef. His Lime Tart recipe is now legendary. However, he yearned to use his operatic voice in the pop/rock arena. He would pose in the window of Fiorucci as a mannequin for hours, never blinking his eyes once, and performed an in-store live concert.
Klaus was an excellent mime and a rare talent. His range from baritone to soprano was beyond belief, coupled with his spiked blue-black hair and matching lipstick, white painted face and his twinkling eyes. In his white gloves, shiny monochromatic plastic space tuxedo, pointy elf boots and black spandex leotards (he must have frequented the most elegant space places!), Klaus resembled a real-life toy - a cross between Mickey Mouse and the Tin Man.
Klaus adopted the name Nomi - an anagram of Omni, a science-fiction magazine.
"It could be any nation, because I see myself as universal, not as German, American, French or whatever you want, cause we are all on this planet, we're all living on the earth."
Nomi appeared in a satirical camp production of Richard Wagner's Das Rheingold with Charles Ludlam's Ridiculous Theater Company in '72. He played the Rheinmaiden and the Wood Bird.
Despite the freaky façade, Klaus was a really sweet, adorable guy, in love with life. He would kiss my cheek and leave a black lipstick print every time. You could see him walking down New York's St. Mark's Place in his fuzzy electric blue coat and full makeup in broad daylight.
His first appearance as "Klaus Nomi" was in '78 at Tom Scully and Susan Hannaford's New Wave Vaudeville Show, directed by East Village legend Ann Magnuson. He was an overnight club sensation.
One of Nomi's earliest costumes worn at his debut featured a clear plastic cape, which was a vintage raincoat originally belonging to New York rocker Howie Pyro's mother! Joey Arias soon introduced Klaus to the fashions of Thierry Mugler and Yamamoto. Joey remembers, "I still get goose pimples when I think about it... It was like he was from a different planet and his parents were calling him home. When the smoke cleared, he was gone."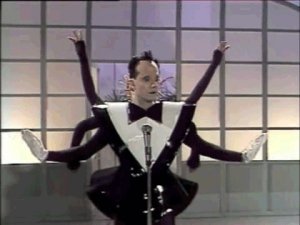 Nomi's iconic space tuxedo was inspired by the one Bowie wore while singing The Man Who Sold The World on SNL. It was based on a costume designed by Sonia Delaunay and worn by Twenties Dadaist artist Tristan Tzara for the play Le Cour a Gaz (The Gas Heart).
The hard plastic sculptural silhouette, mimicking a tuxedo completely encased David's legs. It was accented by an oversized striped bowtie. Replicating Bowie's monochrome Dadaist outfit would cost US$1,500, which Klaus, the pastry chef could not afford. However, the costumer was so moved by Nomi's passion that he agreed to make him a triangular plastic tuxedo for much less.
The ball gown/stockade was another masterpiece. Nomi's monochrome outfits became infamous 30 years later - adapted by director Tim Burton for Johnny Depp's look in the film Edward Scissorhands, used as the basis of Jean-Paul Gaultier's Spring 2009 couture runway show, and endlessly pillaged by Lady Gaga.
In SNL's popular skit Sprockets, Mike Myers played the character Dieter, a bored, disaffected German expressionist /minimalist who would apathetically interview celebrities. Although the character's monkey was named Klaus, Myers has stated that Klaus Nomi inspired his Dieter character.
The TV appearance with Bowie secured a record deal with RCA records in '80. Nomi's debut album consisted of originals (penned by his brilliant new musical director, Kristian Hoffman of The Mumps) and covers of pop and opera classics by Lou Christie, Marlene Dietrich, Lesley Gore, and Harold Arlen's Ding Dong The Witch Is Dead.
A European tour ensued. At a show at Le Palace in Paris, the entire fashion community showed up because they were intrigued by Nomi's angular, polished and glossy look. Everybody who was anybody in Paris wanted to meet him. Nomi then recorded his second album Simple Man ('82), including two arias by 17th century composer Henry Purcell from the opera King Arthur.
The live shows were amazing; a sort of kabuki-cabaret, opening with Klaus emerging fresh from outer space in a cloud of smoke (dry ice actually, which would shower the audience with a cool heavenly mist). The band was hidden behind a curtain while Klaus and his mime troupe -- Joey and a couple of exquisitely made-up Martian girls and boys -- performed alien theatrics, churning out strangely yet accessible cover tunes; I Feel Love (the Donna Summer hit), Lou Christie's Lightning Strikes and Chubby Checker's The Twist.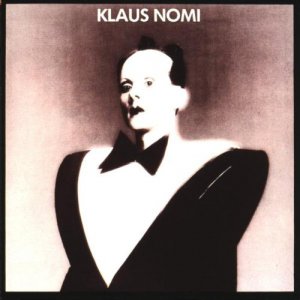 Nomi's other songs (penned by Kristian Hoffman, with great contributions from Joey Arias and George Elliott) were melodic Euro-pop tunes with otherworldly lyrics about outer space, death and the distant future. The Nomi character and his evocative vocals brought warmth to the otherwise cold synthetic sound -- Kraftwerk with personality.
Klaus closed each show with the operatic aria Mon cœur s'ouvre à ta voix ("My heart opens to your voice") from Camille Saint-Saëns' 1877 opera Samson et Dalila, astonishing the crowd every time.
Nomi's performance at the disco Xenon on February 25, '80 was simply magnificent. The oblivious dancing crowd was unaware there would be a show at all, and when their precious disco music suddenly stopped and the curtain rose on-stage, they hissed and booed.
Klaus immediately entranced them with his sublime vocals and self-created illustrious character, transporting everyone to his planet.
At the end of the forty-minute performance, he disappeared into the vaporous stratosphere from which he came. Everyone screamed for an encore! First there was the dead silence of disbelief, then bewildered cries of, "What was that?" then a thunderous burst of wild applause.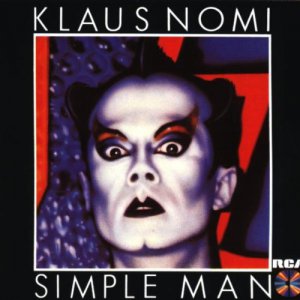 Nomi performed a stunning two-night engagement at Hurrah! on March 18-19, '80. Even the audience was quite glamourous. We all had a certain feeling that we had witnessed the beginning of something big.
Klaus last performed in New York at the Mudd Club in '82 -- out of costume, but still in full make-up. For his final, most intense and regal German TV performance of Cold Song with a full orchestra, Klaus wore a stunning Baroque operatic outfit complete with a grand ruff collar.
Then he suddenly disappeared from the scene.
Klaus died of AIDS at age 39 on August 6, '83. It's tragic that it all started and ended so quickly. His ashes were scattered in New York City.
I will always remember his sincere, sweet smile and the sparkle in his eyes. He was so happy to finally be on the road to success. Klaus touched many people with his wonderful gift. His golden voice lives on.
Shortly before his death, Klaus was asked what project he would have most like to perform. He said, Hänsel und Gretel (the opera by Engelbert Humperdinck). And which role? Klaus smiled, raised his hands in an operatic gesture, and said, "The Witch, of course!"
The wonderful Klaus Nomi is still admired by countless musicians, artists and designers worldwide, such as Morrissey ("Nomi sang like a man trapped in the body of a dead girl.") who still plays Nomi recordings prior to his own gigs.
New York native Madeline Bocaro has written and consulted for Dazed & Confused and Mojo magazines, and for biographies including Stardust: The David Bowie Story (McGraw Hill, 1986), Yoko Ono (MacMillan & Co., 1987), The Wild One – The Story of Iggy Pop (Omnibus, 1988) and Mick Ronson – The Spider With The Platinum Hair (Independent Music Press, London, 2003).
She was a research assistant on the Klaus Nomi documentary film The Nomi Song in 2005. Madeline was a staff writer for CMJ from 1976 to 1981. She has contributed articles to Discoveries, Goldmine and Chicago's Roctober magazine.
You can read a collection of her writings at: www.madelinex.com. She previously appeared at Elsewhere, here.