Graham Reid | | 1 min read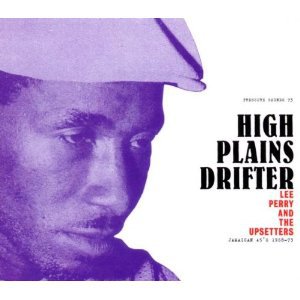 This 20 track collection of Jamaican singles picked up from 1968 to '75 catches producer Lee "Scratch" Perry at an especially productive and innovative period. And, with his Upsetters band (which included future Wailers Aston and Carlton Barrett, saxophonist Tommy McCook, guitarist Reggie Lewis and others), he was crafting strange proto-reggae singles for the likes of Count Sticky, Dave Barker, Junior Byles and others.
The title refers to Perry's obsession with spaghetti westerns (although the great Return of Django isn't here, The Man with No Name is) but it isn't all serious. In fact one track is Big Joke and uses one of those cheap laughing bags from novelty stores to kick it off.
Perry was pushing the boundaries in sound but also having artists do spoken word sections (Count Sticky here on Boss and the pulsing Rockfort Psychodelia, Dave Barker calling for a beer from the waiter on the soul-blues of Sitting and Waiting), and was rejigging standards (He Don't Love You by the Silvertone).
He also brought home the American soul (the light-voiced Barker again on Next to You) and was steadily formalising the slower reggae rhythm.
Because he was so far ahead of the game and pushing constantly, much of what you hear at this time was quickly surpassed (by himself mostly), but tracks like the throbbing Amigo, lively upstep of Jimmy and the Inspirations on Ain't No Love and the shuffle groove of the Faithful Brothers on Iniquity Workers remain a stone cold delight.
And the saucy Rub Up Festival '71 at the end is one of those songs which could never win a song writing competition (in fact it was banned) but was probably better known and respected on the streets than whatever did take the prize.
Like the sound of this? Then check out this or just trawl the Reggae in Elsewhere pages.