Graham Reid | | 4 min read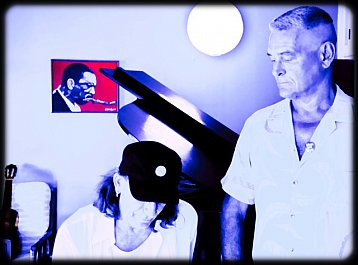 Jeez, where to begin with these two? The pocket edition story of Trevor Reekie would mention he spent time in the UK in the Seventies, back in New Zealand in the Eighties he played guitar in and produced the innovative electro-pop outfit Car Crash Set, helmed Stunn then Reaction Records (producing the Mockers aong others), founded his own Pagan Records which gave a first start to Bic Runga, Shihad, Greg Johnson, Merenia and released Shona Laing's seminal Glad I'm Not I'm a Kennedy among many others), has done innumerable and invaluable radio programmes, played in Greg Johnson's band for a decade, recorded as Cosa Nostra and Trip to the Moon, something about his Antennae label . . .
Bassist, producer, teacher and musical director Tom Ludvigson was in Bluespeak (alongside Johnson), founded the Inner City Jazz Workshop in Auckland which gave an outlet to creative talent outside the mainframe, has been in too many studio sessions and on stages to mention, done more than half a dozen film scores, been a fellow traveler with Reekie in Trip to the Moon over half a dozen albums . . .
Yep, far too much to mention, so let's not and on the occasion of the release of the new Trip to the Moon album The Invisible Line just flip the Famous Elsewhere Questionnaire to them and let them tell their own story . . .
The first piece of music which really affected you was . . .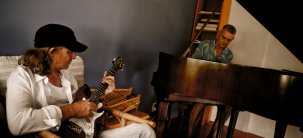 Trevor (left in photo): The album I first bought was a 2nd hand copy of 'Mean Woman Blues' by the Spencer Davis Group. Still got it. Scratched on Fontana.
Tom (right in photo): Little Richard doing Long Tall Sally. I went out and bought the EP only to destroy it with my parents old gramophone intended for 78s…
Your first (possibly embarrassing) role models in music were . .
Trevor: Chet Baker - All my role models are dead junkies..I most admire the dedication to 'figuratively' and 'literally' score and the 'commitment' it takes to get what you want. Exactly he same pre-requisites one needs in the music business.
Tom: Hank Marvin of The Shadows – that lipstick red stratocaster and the Binson echo on muted strings. I was into lead guitar in a big way.
Lennon or Jagger, Ramones or Nirvana, Madonna or Gaga, Jacko or Jay-Z?
Trevor: Lennon, followed by Keef. And Joey Ramone.
Tom: Lennon, Ramones, Gaga and Jacko covers all the bases.
If music was denied you, your other career choice would be . . .
Trevor: A broadcaster … but even tho music still denies me, that ain't the point. It's not what you get for one's music, more what one becomes by one's music. There was no other alternatives.
Tom: Adventure travel and writing for income. I love spending time in the periphery, wild places away from the main stream.
The three songs (yours, or by others) you would love everyone to hear are . . .
Trevor: Terese – Trip To The Moon; Control Control – Cosa Nostra; East And West – Car Crash Set
Tom: Charles Mingus – Los Mariachis (The Street Musicians); Quincy Jones – Gula Matari; Otis Redding – You Send Me
Any interesting, valuable or just plain strange musical memorabilia at home?
Trevor: My Raagini. Most expensive 'tuner' I ever bought.
Tom: A Sequential Cirquits "T8" electronic keyboard – the pinnacle of old-school analog synthesizer technology before it all went digital, featuring weighted wooden keys. It plays like a dream.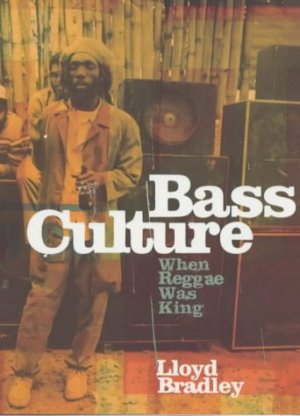 The best book on music or musicians you have read is . . .
Trevor: 'The Big Payback – The history of the business of Hip Hop'. By Dan Charnas. More about the machinations of the music business than music. Invaluable. 2nd choice. Chris Bourke – Blue Smoke.
Tom: Bass Culture – all about Jamaican music from Mento through Ska, Reggae and Dub to Dancehall. A great read.
If you could get on stage with anyone it would be . . . (And you would play?)
Trevor: The late Brazilian guitarist Bola Sete. I would play minimal Ebow.
Tom: Herbie Hancock. I would watch and listen.
The three films you'd insist anybody watch because they might understand you better are . . .
Trevor: Because I have a severe case of attention defecit, I need continual clarification on any movie I see.
Tom: A bit of Scandinavian humour might help, like Cool and Crazy (about a Norwegian backblocks choir) or My Life as a Dog.
The last CD or vinyl album you bought was . . . (And your most recent downloads include . . .)
Trevor: The last vinyl album was at Slowboat. Gene Vincent and His Blue Caps. 'Blue Jean Bop.' Last CD – David Bowie – Station to Station. A replacement copy. Last download. Chinese vocalist - Sa Dingding. Her composition Ha Ha Li Li remixed by Paul Oakenfold …
Tom: Last CD: Monty Alexander playing Bob Marley tunes. Last download: Derrick May – Live @ FACT mix #339 – 23-07-2012
One song, royalties for life, never have to work again. The song by anyone, yourself included, which wouldn't embarrass you in that case would be . . .
Trevor: Fever – Little Willie John
Tom: Fever (Amazing – we picked the same song independent of each other!)
The poster, album cover or piece of art could you live with on your bedroom forever would be . . .
Trevor: The original painting of Danse Macabre's album art 'Last request' . The painting is by best mate Roger Guise. Its been on my bedroom wall for decades.
Tom: John Coltrane's "Blue Trane" poster - still on the wall since forever.
You are allowed just one tattoo, and it is of . . .
Trevor: Guernica - by Pablo Picasso
Tom: The complete works of David Shrighley
David Bowie sang, "Five years, that's all we've got . . ." You would spend them where, doing . . .?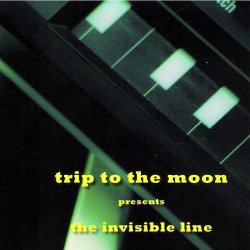 Trevor: Staring at the point of my shoes in Thailand
Tom: In Fiji, relaxing on the beach with my sweetheart
And finally, in the nature of press conferences in Japan, "Can you tell me please why this is your best album ever?"
Trevor: Because Graham Reid told me it is.
Tom: 'Cause we keep getting better and better at what we do. Just wait for the next one!