Graham Reid | | 7 min read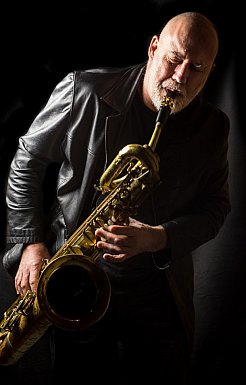 Phil Davison tells a funny story of his first performance at the Tauranga Jazz Festival. It was 1976 and he was just 17, and into playing free jazz with a small ensemble.
However the band broke up just before the festival and he decided to literally go it alone.
He hitched to Tauranga and played a free form solo set.
"In my performance I do my best to channel Coltrane, Albert Ayler, and that Roland Kirk solo from Hog Callin' Blues. Half the audience are cheering, and the other half are booing.
"I get awarded the 'Most Unusual Performance' prize."
But he never looks back and in the many decades since he has played in numerous bands in Auckland and Wellington; recorded a solo album on sax, bamboo flute and piano (Songs for the Dead of Gandamak); ended up in well-known blues band with Ralph Bennett; moved to Sydney where recorded cassettes; moved around Asia; moved back to New Zealand . . .
In the early Nineties he studies music at university and earns a masters degree, pursues an interest in film-making and soundtracks, goes busking, makes more films and videos (low grade horror sometimes), his film Ghost TV is nominated for Best Self-Funded Feature at the 2013 New Zealand film awards. . .
And has now released an album of solo saxophone entitled Straight, Bent and Uncut (reviewed here).
Long overdue then, Phil Davison joins the long list of those who have answered our Famous Elsewhere Jazz Questionnaire. And he's funny and informative.
The first piece of music, jazz or otherwise, which really affected you was . . ?
Hog Callin' Blues, by Charles Mingus with a sax solo by Rahsaan Roland Kirk. That sax solo turned my musical world upside down. Other kids my age got into punk, but I got the same intensity from screaming free jazz. From there I started buying Coltrane's last albums, Ornette Coleman, and anything I could find by Albert Ayler.
When did you first realise this jazz thing was for you?
As above. When I heard Hog Callin' Blues I was sold (or souled?). And when I realised that no one else liked that kind of music I was double sold. No kid should listen to music that other people like.
What one piece of music would you play to a 15-year old into rock music to show them, 'This is jazz, and this is how it works'?
I hate to repeat myself, but Hog Callin' Blues would be a pretty fine education for any youngster. Forget that namby-pamby Brubeck stuff, forget those tight big bands, forget all those players who are technical-masters-who-know-every-chord-upside-down-and-can-read-fly-shit but who have no heart, no understanding of the emotional root of the music. 15 year olds need to have their heads ripped apart by music that has some intensity and humanity.
(Astute readers will note that I said in the paragraph above that no 15 year old should be listening to music other people like, especially old farts like me. So the only way to get the 15 year old to listen would be to forbid them to play the album and hysterically call it "loud, senseless, rubbish with no musical worth" and then let them see you throw the CD in the garbage. Then you leave the room, and hope they rescue the CD. If they believe you and leave the CD in the garbage they have no spine and are not worth educating anyway.)
Time travel allows you go back to experience great jazz. You would go to . . ?
If you asked me that a few years back I would have said the Village Vanguard in 1966 for the Coltrane recording. But now? I think I'd go to the back room at the Reno club in Kansas City, 1936, 3 AM on a Saturday night, and listen to Lester Young and Ben Webster duel Coleman Hawkins. Hawk tied to cut the young guns, but couldn't, no matter how hard he tried, and burned out the motor of his new car trying to get to the next gig in time. Watching those guys trying to out do each other would have been incredible.
Which period of Miles Davis' career do you most relate to, and why: the acoustic Fifties; his orchestrated albums with Gil Evans; the acoustic bands or fusion of the late Sixties; street funk of the Seventies or the Tutu album and beyond in the Eighties . . .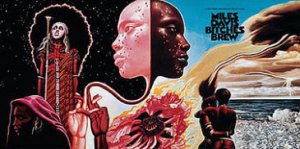 I really like the group that culminated in Kind of Blue, but really, if there was any one of Miles' albums that I can relate to it's Bitches Brew. I love the Rhodes together with the bass clarinet. Awesome grooves.
Any interesting, valuable or just plain strange musical memorabilia at home?
I found a splicing block for 1/4" tape the other day. That's a pretty funky tool that's pretty much useless today. Also a demagnetiser, another tool for tape decks that I don't think I'll be using in the near future, and probably qualifies as strange memorabilia now. My kids tell me that my saxophones are so old they qualify as strange memorabilia. They probably think I qualify as well.
The best book on the jazz life you have read is . . .
You can't put the jazz life in a book. So there are no good books. With the possible exception of 'The Face of Black Music' by Valerie Wilmer, since that book is just photos, and Wilmer's photography gets under the skin.
If you could get on stage with anyone it would be . . . (And you would play?)
I'd love to be on stage with Muddy Waters in Chicago in the 60s. I think a gig like that would be the most fun. I'd only play if Little Walter was not there. I hate playing with harp players – they use up all my sonic territory.
The three films you'd insist anybody watch because they might understand you better are . . .
Well, of course they'd want to watch Ghost TV, since it's the best of my films. For others, hmmm. I'm tempted to say Psycho, but people might misinterpret that. This question is kind of like when you have a visitor in your house and you see them looking at the bookshelf, and you start to think of what books you have and then you wish they were looking somewhere else, because you have a copy of the Book of Mormon on the same shelf as the Karma Sutra, and you just know the visitor is trying to figure out what kind of person has those two books on the same shelf, but really it's only because people gave you the books and you hate to throw books away.
The last CD or vinyl album you bought was . . . (And your most recent downloads include . . .)
Trombone Shorty's Backatown has some awesome grooves on it. Dr. John's Locked Down and El Camino by the Black Keys were standout albums of 2013. And The Astounding Eyes of Rita by Anouar Brahem is a little gem if you are after something quieter. Colin Stetson is another person to listen to, to bend your head around where 'jazz' begins and ends.
One jazz standard you wished you had written . . .
Stardust. For the simple reason that it is the most recorded, and the royalty payments would make you independently wealthy.
The poster, album cover or piece of art could you live with on your bedroom forever would be . . .
My wife won't let me have posters on the bedroom wall.
Three non-jazz albums for a desert island would be . . ?
Glen Gould playing the Goldberg Variations (second version). Bach's music is pretty much timeless, and you could listen to that album over and over again, and appreciate it more each time.
Crooked Still's Shaken by a Low Sound would make a good antidote to an overdose of Bach. You'd need an antidote eventually.
A third one? Maybe Dr. John's Locked Down, just to remember what it's all about.
Your dream band of musicians (living or dead) would be . . ?
The trouble is that my dream band is really composed of people who are strong personalities, and probably would not get on together. But assuming I could wave a magic wand, and make them all cooperate, here's an awesome band.
Starting with the bass, because that's where a band begins, let's have Bootsy Collins. But Bootsy's a little in your face, so we'll need a second bass player, someone who is just going to keep the groove going, so lets have Walter Page as the second bass player.
If we've got Walter in there we probably want Jo Jones (not to be confused with Philly Joe Jones) on drums (using brushes). But I often like having two drummers, so let's have Jack DeJohnette as well.
On rhythm guitar, to really set off Walter and Jo we better have Freddy Green. No one understands four on the floor better than Freddy. But to really get the groove going lets add John Lee Hooker. Since John Lee doesn't do too well at changing chords when everyone else does, we'll make him the leader of the rhythm section too. I'm happy for the chords to change at John Lee's whim, since his whims are pretty good.
Basically, Walter, Jo, and Freddy make a classic Kansas City 1930s rhythm section and Bootsy, John Lee, and Jack will turn it into a fat groove machine.
On Rhodes, we'll have Ray Charles, and maybe a special guest appearance by Booker T. Jones on B3.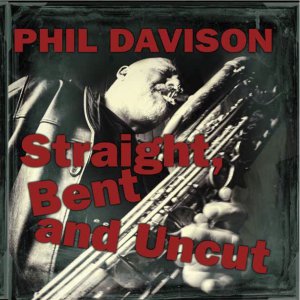 For a second horn we'll have Fred Wesley (Trombonist from James Brown's band and Parliament), because he doesn't take too make solos, but when he does they are incredible. And of course I'll play the sax.
But like I said, I think if you put all those people in the same room you'd probably just get a fight. So maybe I'd just hire The Meters, the worlds finest backing band, and use them.
And finally, is there a track on your most recent album you would love people to hear. And, if so, why that one?
Can I Get a Witness? is the best tune. It's modelled on a sermon of a southern black preacher, so it's preaching, witnessing, and has something to communicate.