Graham Reid | | 1 min read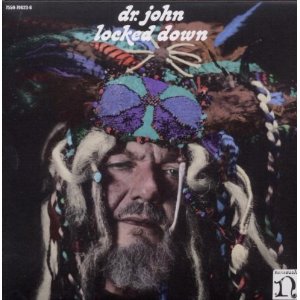 With all due respect to Dan Auerbach of Black Keys who helmed this fine album by one of the living legends into life, we have passed this way before with 71-year old Dr John, notably in '98 with the album Anutha Zone where the likes of Paul Weller, Jools Holland, members of Spiritualised, Primal Scream and Supergrass lined up to direct him back to his classic sound of the late Sixties.
Auerbach and his Nashville friends do something similar here, but to greater success and with consistency because the material -- from the gumbo voodoo funk to the reflective My Children My Angels -- was written on the fly and sounds less forced.
The Doctor is back in the house.
Dr John's extraordinary if often wayward career began with the essential Gris-Gris album in '68 and although there were slightly diminishing returns on some subsequent albums, the first half dozen are still worth hearing.
Some of the MOR stuff in the Eighties is lightweight but he would always make forays back into that unique meltdown of New Orleans funk, psychedelics, tripped-out rock and jazzy shuffles with spooky voodoo menace.
That is the sound he created and which Auerbach has directed him back to, without forcing the issue or making some false replication of the style.
It helps that Auerbach has assembled a crackling band which sparks with electrostatic energy -- huge bass, guitars which hit like a Taser, terrific rhythm section -- and that Dr John has pulled out some of his most worthy lyrics to go with the boiling and steamy moods created.
He admonishes from the swamp (Locked Down with the great image "stretched out like a rubber cheque"), gets furious about the state of his nation (the urgent Revolution), hunkers down into fuzzy blues (the nasty Afrobeat-driven You Lie) and conjures up that idiosyncratic style which is his own (Ice Age with its swathes of horns and cowbell).
Yet Auerbach also pushed the good Doctor, by getting to play Farfisa organ ("I haven't played one of these since 1969 with Doug Sahm," was his comment) which adds a strange bent to music which already somewhere between a cobweb-filled nightclub in New Orleans and the cosmos.
There is funky soul here too (Elugga) but it is the two closers, the reflective My Children My Angels and the thoughtful but rocking God's Sure Good (where he gives thanks and reminds us of that deep well of spirituality he draws on), which are also part of this broad picture full of telling details.
In recent years, Dr John has reconnected to his New Orleans soul and spirit -- largely because of the local adversity and the hits his hometown took -- and this is more evidence that he's still got it, and can conjure the magic up.
In spades.