Graham Reid | | 4 min read
Regular readers of Elsewhere would find it no surprise that the debut album by Into the East, Fight From the Inside, picked up the 2014 Tui for Best NZ Folk Album, Album of The Year and Band of The Year at the Southland Entertainment Awards and more recently, a nomination for the highly regarded Taite Music Prize.
Elsewhere picked Fight from the Inside as one of the best albums of 2013 (and we had cover artist Hanna Isaac open her sketchbook for us also, see here).
Liv McBride and Graeme Woller of the band are also excellent stage performers who quickly establish a rapport with their audience and, as you may see from McBride's answers below, she's pretty witty.
Into the East are touring New Zealand in April (dates below) so it is very timely to have McBride take on the Famous Elsewhere Questionnaire.
The first piece of music which really affected you was . . .
The Beatles Anthology. Hearing at a young age production techniques, harmonies, industry pitfalls & the greatest band of all time acting like muppets shaped my approach to music.
Your first (possibly embarrassing) role models in music were . . .
Bic Runga in her music video for "Drive". I didn't realise girls played guitars until seeing that.
Lennon or Jagger, Ramones or Nirvana, Madonna or Gaga, Jacko or Jay-Z?
Lennon, Nirvana, Gaga (sorry, she writes & has a strong set of pipes), Jacko (anyone who can write a hit song based on Star Wars? Legend.)
If music was denied you, your other career choice would be . . .
Journalism or Dairy Farming… A journalist who interviews cows, then? Done.
The three songs (yours, or by others) you would love everyone to hear are . . .
Perfect Storm (ours) Manic, light & grounded just like us…
I Am A Ghost (Tiny Lies) Beautifully eerie
Bowie's In Space (Flight Of The Conchords) It's that song that finds you buried in sorrow, pulls you out & rolls you in glitter.
Any interesting, valuable or just plain strange musical memorabilia at home?
A performers pass from being the girl fluff for an MC who opened for Scribe in Invercargill. Our "hit" was a rap with the words "This is Murihiku Southland, Aotearoa". YOU try & make that sound legit.
The best book on music or musicians you have read is . . .
Stranded In Paradise. I read this whilst studying & never appreciated it. It's only when you're out on the road and hearing the word "no" frequently that books like this resonate & reassure.
If you could get on stage with anyone it would be . . . (And you would play?)
Bobby McFerrin. To be a part of music without instruments, to use my voice as a tool and my body as a beat. Pure heaven.
The three films you'd insist anybody watch because they might understand you better are . . .
Monty Python - And Now For Something Completely Different
Hercules Returns
Bio Dome
The last CD or vinyl album you bought was . . . (And your most recent downloads include . . .)
Kylie Price - Wanderer/Wonderer EP
EB & Sparrow - The Moorings EP
Katie Thompson - One Night Stand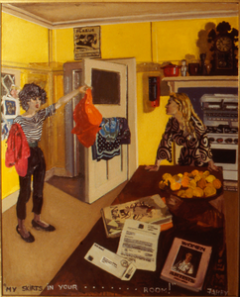 One song, royalties for life, never have to work again. The song by anyone, yourself included, which wouldn't embarrass you in that case would be . . .
"What Have I Done? (On The Run Part II)" - I still cannot perform this song without feeling torn apart by it. It's a pure song, simple but moving & it stings every time.
The poster, album cover or piece of art could you live with on your bedroom forever would be . . .
"My Skirt's in Your F****** Room" by Jacqueline Fahey. I'm not a fan of this visually but as a mother trying to raise her babies to be well grounded citizens whilst flapping around the house trying to be a housewife whilst flapping around the country trying to create a career in music whilst struggling with the typical disorganisation & mood swings of being an artist… what Jacqueline did with this commissioned piece is every working mother's middle finger to the word "now".
You are allowed just one tattoo, and it is of . . .
The word "Focus" across my knuckles and forehead.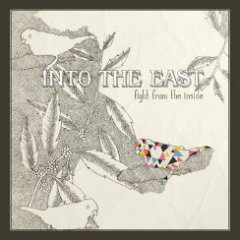 David Bowie sang, "Five years, that's all we've got . . ." You would spend them where, doing . . .?
Bundle the family. Travel. Tell the world what I think of it. Touch things I'm not allowed to.
And finally, in the nature of press conferences in Japan, "Can you tell me please why this is your best album ever?"
It's the only bloody one we've got.
Into The East Tour Dates
1 April - Earth House - Peria
2 April - The Old Library - Whangarei
4 April - House Concert - Waihi
5 April - Dome Cinema - Gisborne
6 April - Eastend Cafe - Wairoa
7 April - House Concert - Napier
8 April - Mainly Acoustic Music Club - Upper Hutt
9 April – Mojo Invincible - Wellington
10 April - Le Café - Picton
12 April - Mayfair Theatre - Kaikoura
13 April - Dale Hartley School of Dance - Rangiora
16 April - Geraldine Cinema - Geraldine
28 April - Lake Hawea Hotel - Wanaka
29 April - Old Lodge Theatre - Hokitika
30 April - Freddy's - Greymouth
1 May - The Freehouse - Nelson
3 May - Opunake Lakeside Playhouse - Opunake with The Fedz
4 May - Folk House Taranaki - New Plymouth
5 May - Valentes Outwest Cantina - Raglan
6 May - Acacia Bay Community Hall - Taupo
7 May - Rogue Stage - Rotorua
8 May - House Concert - Te Pahu - Hamilton
9 May - Leigh Sawmill Cafe - Leigh