Graham Reid | | 2 min read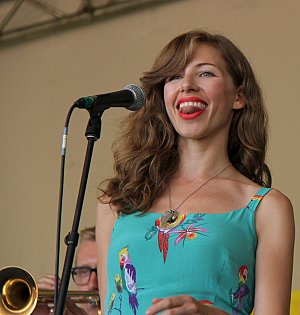 You only needed to see Lake Street Dive's You Tube of them singing The Jackson' Five's I Want You Back on street in Boston four years ago to realise they were pretty special.
The quartet had met at the New England Conservatory of Music and had bonded over a love of Motown and classic Sixties pop with touches of country. They'd taken their time: in late 2014 when we spoke with bassist/songwriter Bridget Kearney before they came to the 2015 Taranaki Womad (where they wowed the crowd) they''d been together for eight years, but only the previous professionally.
Since then it has been all up-and-up with acclaimed albums and considerable touring. They are television talk show regulars in the US and in very good news they come back to New Zealand for concerts in early 2017 (see date below).
We thought it timely then to offer our Famous Elsewhere Songwriter Questionnaire their charismatic singer Rachael Price who grew up with jazz and gospel . . .
The first piece of music which really affected you was . . .
Probably all the Ella Fitzgerald records my dad got me when I was quite small.
Your first (possibly embarrassing) role models in music were . . .
Judy Garland, Ella Fitzgerald, Mariah Carey
Lennon or Jagger, Ramones or Nirvana, Madonna or Gaga, Jacko or Jay-Z?
Lennon and Madonna- I can honestly say I've never listened to the rest!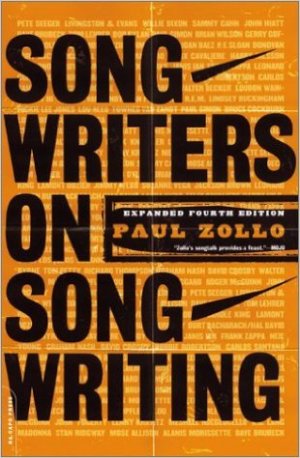 If music was denied you, your other career choice would be . . .
A midwife.
The three songs (yours, or by others) you would love everyone to hear are . . .
Donny Hathaway doing "Jealous Guy" live. Gladys Knight "If I Were Your Woman", Diana Ross "Surrender"
Any interesting, valuable or just plain strange musical memorabilia at home...
Not really! Just a really cute vintage Silvertone guitar from the 60's
The best book on music or musicians you have read is . . .
Songwriters on Songwriting
If you could get on stage with anyone it would be?
The three films you'd insist anybody watch because they might understand you better are . . .
Swingers, Seven Brides for Seven Brothers, Waiting for Guffman
The last CD or vinyl album you bought was . . . (And your most recent downloads include...)
The new Tribe Called Quest and the new Leonard Cohen
One song, royalties for life, never have to work again. The song by anyone, yourself included, which wouldn't embarrass you in that case would be
Are you asking if there's a hit out there that I would have loved to have written/performed? If so, "You Make My Dreams Come True" by Hall n Oates.
. . .
The poster, album cover or piece of art could you live with on your bedroom forever would be . . .
I have a beautiful photo of Judy Garland in my room- that's it :).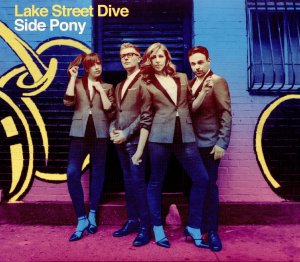 You are allowed just one tattoo, and it is of . . .
Well I have two but if I had to choose between the two I'd pick the one that's an old LSD lyric.
David Bowie sang, "Five years, that's all we've got . . ." You would spend them where and doing what?
Just what I'm doing now- working on music with Lake Street Dive, playing shows, and trying to make the world a more beautiful place.
And finally, in the nature of press conferences in Japan, "Can you tell me please why this is your best album ever?"
It's our best ever, cause we did our absolute best making it. We plan to make even better ones in the future!
Lake Street Dive, Tuning Fork, Auckland, Wednesday January 11