Graham Reid | | 4 min read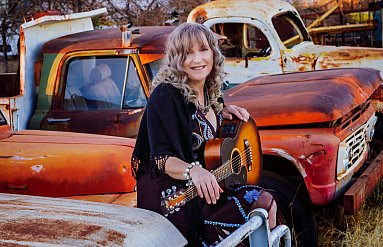 Two years ago New Zealand singer-songwriter and self-starter Aly Cook from Nelson picked up the International Country Music Artist of the Year award . . . in Tasmania.
Yes, she she has been nominated for a number of awards in New Zealand (five country music awards, won one, an APRA Silver Scroll nomination) but Australia has really embraced her.
The same year she picked up that Tasmanian award her song Western Line was top of the Australian Top 40 Country Tracks Airplay chart for six weeks, a song from her Horseshoe Rodeo Hotel album recorded in New Zealand with producer Allan Jansson (How Bizarre, In the Neighbourhood, Nathan Haines' Shift Left album etc) and featuring local legends like Graham Brazier, Brendan Dugan, Fats White, Kara Gordon, and others.
But these days – after crowd-funding for her three albums – she is signed to heavy-hitting Sydney-based label SBD Music who have released her latest album Caught in the Middle.
Recorded with multiple ARIA award-winning producer Buzz Bidstrup, with stellar Australian guests (including another expat Sharon O'Neill), Aly Cook is the Kiwi whose strong songs sit comfortably alongside those by Kasey Chambers, Rosanne Cash, Lucinda Williams, Dolly Parton and other luminaries.
And at this year's Tamworth Country Music Festival the girl from the wild West Coast picked up the International Country Music Association of Australia award for her work internationally in supporting independent Australian and New Zealand artists.
She's a class act, runs her own business and assists other artists, tours constantly . . . and so, with her new album Caught in the Middle released last week (reviewed here) we asked her some personal questions so you can get to know this highly successful export.
Where did you grow up, and with who?
In Tahunanui, Nelson near the beach with Mum, Dad and brother
Was music an important part of your childhood?
Oh yes, everyday. Dad was an opera singer in his earlier years. So he was always rattling the walls with his bass baritone voice and the amplifiers he was building for people's huge home stereo systems and amps for music.
What are your earliest childhood memories of music which really affected you . . .
Well as above with Dad and learning classical piano from about 9. Dad used to listen to a lot of Glen Campbell as well as big band Glen Miller etc
Was there a time when you felt it was going to be music and nothing else?
It always has been , and will always be if I have my way.
When you started on your music career were people around you supportive or did you have to find those people?
My parents were incredibly supportive of my music always.
The first song of yours which you really felt proud of was . . .? And why that one?
That's really hard because in song writing – well, and in everything – I am striving to get better at it. But I guess I Wonder as it was the one time I got a nomination for APRA Country Song of the Year .
Any one person you'd call a mentor, angel on your shoulder or invaluable fellow traveller?
I've had a few over the year .. but learned lots and got going on the guitar a bit more thanks to Tama Renata. And my time with fellow Maori performers definitely had an influence on my harmonies and melodic music structure. Sharon O'Neill of course whom I have always looked up to is like a little soul sister, we went to the same primary school ..
Where and when was the first time you went on stage as a paid performer?
Getting snuck into the Hotel Nelson under age for Wed night jazz by Andrew Leishman (RIP) to sing Billie Holiday, Coco Taylor and Ella Fitzgerald songs.
Ever had stage fright or just a serious failure of nerve before going on stage?
Every single time. Just learned how to keep a lid on it. Or as grandma would say like a serene duck floating across the water but paddling like hell underneath.
As a songwriter, do you carry a notebook or have a phone right there constantly to grab ideas they come? Or is your method something different?
Yes I do that and just pick up my guitar and see where the vibes take me.
Any piece of advice you were given which you look back on which really meant something?
Yes, in 1991 I got to tour a few dates with BB King and I saw how he would perform two hours then spend time signing stuff for his fans backstage. They would wait at the door, before the days of the real meet and greet and he would have us show them in 10 at a time. It was very cool to see the looks on their faces. I said to him I was amazed he did this and BB said "If they waiting at the door to get glimpse of me, they have all my albums and come every show they can, the least I can do is say thank you" I think about that when I think about the people who bought my album in advance to enable me to make it.
It's after a concert and you are in a hotel room or back at home, what happens then?
After the adrenaline has whittled away I like a nice drink of something warm . . . and snooze, or sit up and post like hell for the next gig on social media. But talking after the gig is a killer for the next day gig, especially if you are doing a few in a row, like I am about to do. 10 days in Mildura singing at least 30 mins twice a day every day, at the Mildura country music festival
Is there any fellow artist you admire for professional and/or personal reasons?
Sharon O'Neill of course ! Love Neil Young's song writing always have. Lots of the indie artists I work for, but right now I have deep admiration and gratitude for Buzz Bidstrup my fellow co-writer musician/producer and label owner for my new album 'Caught in the Middle'. He's kind of an everything to everyone person like me. My day is filled with helping other artists. He has put his heart and soul into the album both during the recording process and as the label now in the releasing part.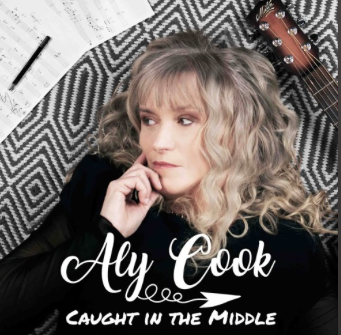 And finally, where to from here for you do you think?
To the Moon and Back! I am very proud of this album and feel good about where I am at and hope people love listening to 'Caught in the Middle' as much as we all loved creating the music . x
It's great to have the support of Buzz Bidstrup , Dave Nicholas and Sebastian Chase with SBD Music along with my partner in Key 2 artist promotions Therese McKee.
Finally I am not doing this bit all on my own. So hopefully this will help with more people discovering the music we have created.
Aly Cook wrote about the journey of crowd-funding Caught in the Middle for Elsewhere here.
You can hear her album Caught in the Middle on Spotify here.