Graham Reid | | 6 min read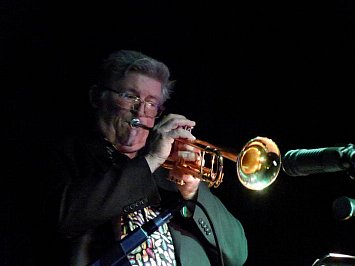 Trumpeter, arranger, composer, educator and much more,
Mike Booth
has been a pivotal figure in New Zealand music, notably in jazz.
His CV includes time in the Rodger Fox Big Band, the funk outfit Collision, more recently with John Key on his Dune Dancing album, Sola Rosa's terrific Chasing the Sun and in the past month with Frank Gibson Jnr and others in the New Bop Quintet and the third album with the Auckland Jazz Orchestra (East of the Sun, being launched next week, see below).
And that's just part of what he has done in this country, as you may see below he has some serious credentials working overseas also.
So with the NBP and AJO albums out it is timely that we ask Mike Booth some jazz questions . . .
.
The first piece of music, jazz or otherwise, which really affected you was . . ?
This is relatively easy to answer – Miles "My Funny Valentine" although in doing so I feel compelled to give a more complicated answer.
My parents were deeply interested in musical theatre and we always sang as a family on car trips and music was always around home either played on the piano or via records and radio. We had our favorite singalongs as many families do. I remember at about 6 years old my parents seemed intrigued that I could sing harmony easily and I enjoyed doing that and the attention it received.
I still get a thrill when singing in a group, enjoying the blend, the power and harmony. Surely this is the solution to global conflict! I almost never sing anymore.
Pre school I couldn't stand my mother playing the Moonlight Sonata on the piano at home and would always interfere wanting to try and play it. I never could and still can't. Piano is beyond me!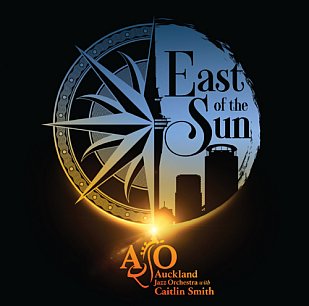 My mother was a very good singer and her partnership with Hamiltonian Leo Dove was hugely thrilling to hear. I found their rehearsals deeply moving . . . some light classical things and stage show songs like People Will Say We're In Love (Oklahoma), It's A Lovely Day Today (Call Me Madam), Wunderbar (Kiss Me Kate), Baby It's Cold Outside .. and many more.
When I took up trumpet at intermediate school Mum surprised me with three records. Miles's My Funny Valentine, The Best of Al Hirt Vol 2 and Eddie Calvert. Calvert was too syrupy for my taste. Al Hirt was great but way beyond my ability. I loved the My Funny Valentine track from Miles and would often play the record loudly and mimic it - until the neighbour complained.
I also played in the Waikato Youth Orchestra, National Youth Orchestra, Waikato Big Band, and made some money in a weekend band (Tijuana Brass tunes and pop hits of the day) from about 15 years old. I never thought about categories of music. I just played what I thought was good. Of course I also benefitted from a great era of music on radio through the 60's and 70's.
I got a Music Minus One record at some stage [an album with the key instrument omitted, to play along with] and loved the arrangements on that. I tried to write some of them down feeling like I was cheating by copying them. I also got a Bacharach one. Great music!
So all of this to try and explain that I don't have one song as an answer. I've never been the type of person to remember and be able to recite song titles, performer names and the like but I know that when I play I draw on an infusion of music influences.
When did you first realise this jazz thing was for you?
Heading for Wellington and University I joined the newly formed Golden Horn Big Band (RFBB) band from about 1973 and started to realise that jazz was a separate category and soloing was expected. I joined and went with Wellington funk band Collision to Australia in the mid 70's.
The trumpeter Dennis Farias on a tour we supported with Dalvanius (Tina Turner) gave me a book of Clifford Brown solo transcriptions. When I returned to Wellington a couple of years later I found that Geoff Culverwell (the great Wellington trumpeter) was talking about chords and theory. I stayed for a time with Rodger Fox and he had a great collection of records including Clifford Brown and I eventually decided I should know more about that stuff.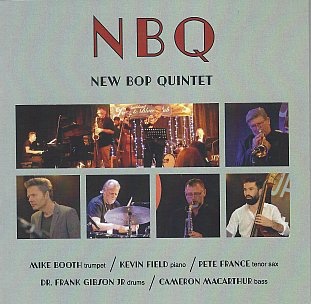 At the least I could treat bebop as a technical study. Colin Hemmingsen had just started the NZ Jazz School and additionally a new friend at that time Craig Walters was most insistent that we play jazz together. I also got to see Bobby Shew who came out to play with Rodger's band.
That was a turning point for me in the sense that suddenly, in person, was a trumpeter who touched me to the core. Sound, musicality, personality. A great man and a major inspiration.
During 16 plus years playing with a pop band in the Netherlands I also played with the Dutch Jazz Orchestra. Participating in their 'Strayhorn" projects was an absolute joy. Great musicians in that band and great music.
More recently my jazz journey has been nourished with the opportunity to play with Phil Broadhurst. His compositions are intriguing, quite challenging, and playing in his quintet forced me to address weaknesses. A totally inspiring experience.
What one piece of music would you play to a 15-year old into rock music to show them, 'This is jazz, and this is how it works'?
I guess it might be something from the fusion catalogue. Depending on their instrument or current musical choices it might something early from Blood Sweat and Tears or Chicago, (I like "Chase"), Miles, McLaughlin, Herbie, Chick, maybe Steps Ahead or Weather Report through to Lettuce or Snarky Puppy. There's so much good stuff out there it's hard to imagine someone could steadfastly cling to any one style of music anymore.
Time travel allows you go back to experience great jazz. You would go to . . ?
I would love to have seen Clifford Brown play.
The best book on the jazz life you have read is . . .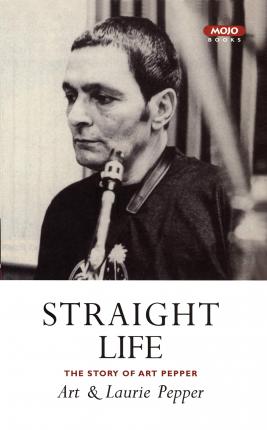 The book that has stayed with me the longest is the Art Pepper story – Straight Life. Unbelievable determination to stay on drugs.
If you could get on stage with anyone it would be . . . (And you would play?)
I've never had a minds eye of being invited to perform with any specific person or act. I guess, though, I'd just hope whomever it was to be able to play well enough!
The three films you'd insist anybody watch because they might understand you better are . . .
I'm not a film person much at all.
The last CD or vinyl album you bought was . . . (And your most recent downloads include . . .)
I picked up Dizzy with Oscar Peterson a couple of Wgtn jazz festivals ago. It's a great CD. Last downloads might have been some hip-hop for a proposed concert i was to arrange for. It's not going ahead. Prior to that I downloaded Carole King song It Might As Well Rain Until September for an arranging job.
One jazz standard you wished you had written . . .
I always like I Remember You but there are so many great tunes in the jazz rep. that are so superior to anything I could think of I'd be happy to put name on anyone of a hundred or more.
The poster, album cover or piece of art could you live with on your bedroom forever would be . . . I have it ..
an A. Renoux print (copy of) of Miles.
Three non-jazz albums for a desert island would be . . ?
Schubert's Lilac Time, Beach Boys (Pet Sounds?) Cat Stevens' Tea For The Tillerman or Beatles' White Album or Earth Wind and Fire
Your dream band of musicians (living or dead) would be . . ?
Too hard! I just missed Chet Baker in Amsterdam. I was three months too late.
And finally, is there a track on your most recent album you would love people to hear. And, if so, why that one?
Rangitoto works quite well for me. I'm not often happy with my own efforts but this one has a nice balance between obvious and ethereal.
.
The AJO album East of the Sun is available on pre-release order at bandcamp here.
.