Graham Reid | | 1 min read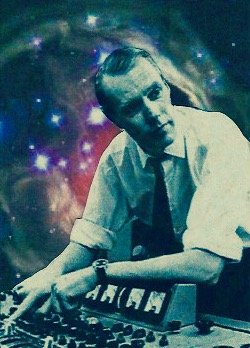 In the encyclopedias of electronic music one name stands out for its absence, that of the British experimenter, producer and musician Ray Cathode who, in the very early Sixties, made two revolutionary pieces of music.
Regrettably they were the only two he made, but they were with the innovative and acclaimed BBC Radiophonic Orchestra which created the extraordinary and distinctive theme music to the television series Dr Who in 1963.
The previous year however Ray Cathode and the workshop's Maddalena Fagandini created the orchestrated Time Beat which brought together a Latin style with electronic sounds, as did the single's flipside Waltz in Orbit.
Both of these were electronic dance music if you will, but not of the kind we know today. Dance music for couples to dance to, not wave their hands in the air like they just don't care.
Although these two instrumentals were more experimental than successful, they paved the way for others to follow . . . although most electronic artists such as New Zealand's Douglas Lilburn – who had visited the BBC Radiophonic Workshop around this time – would abandon traditional instruments entirely to explore the sonic palette offered by the new technology.
The Time Beat piece was based on an interval signal – a short passage of notes to identify a radio station and to assist in tuning to frequencies in the days before digital – which Fagandini had created for the BBC.
Fagandini – who died in 2012 age 83 after a successful post-BBC career as a television producer and director – also experimented with musique concrete.
Cathode's previous career however had taken him into working on comedy records (Peter Sellers, Spike Milligan) where he learned how to use sound effects.
As a trained classical musician at Guildhall – where he studied piano and oboe – he could bring a considerable and diverse history of music, styles , arranging skills and sonic effects to his subsequent career when he auditioned a group from Liverpool a little later in '62 after Time Beat/Waltz in Orbit disappeared.
For his work with that band "Ray Cathode" reverted to his own name: George Martin.
For other articles in the series of strange or interesting characters in music, WE NEED TO TALK ABOUT . . . go here.