Graham Reid | | 1 min read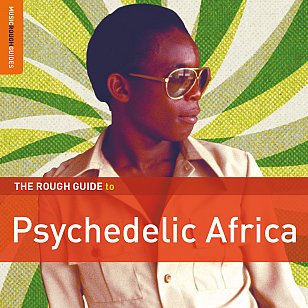 Because the word "psychedelic" has a fairly flexible definition these days (see here) it's almost no surprise that the short opener Let Yourself Go here by guitarist Victor Olaiya's All Stars Soul International band is on the axis of James Brown funk and any notions of tripped-out rock are immediately relegated.
And while the liner notes claim this 10 track collection contains "far-out psychedelic-sounding rock mixed with a thick dollop of deep funk and soul became the sound of a generation" from the Sixties and Seventies in West Africa, it also includes material as recent as the Orchestre Poly-Rythmo's 2011 track Pardon (rolling boil post-Fela funk) and the re-formed Orchestra Baobab's Nijaay from their 2007 album Made in Dakar.
There is some fine but not unfamiliar high-life included also . . . so where's the "psychedelic" stuff promised on the box?
Well, there is the legendary Rail Band's 13 minute laid-back Wale Numa Lombaliya, the extraordinary astral-juju guitar in singer Celestine Ukwu's group, and especially the lazy trumpet and distant guitar on the doped-out Kadia Blues by Orchestra de la Paillote.
Ghanaian guitarist Ebo Taylor's 2010 Nga Nga is also fine and fits the "psychedelic" definition.
But a more convincing argument for the influence of Western psychedelic music on the region would have focused on that vibrant period when African popular music was being eroded and influenced by American tripped-out rock.

Still, this collection does come with a terrific bonus disc by the legendary Ghanaian guitarist Sir Victor Uwaifo from 1971.
And Kadia Blues really is a woozy, lava-lamp nod out.
For more world music influenced by planet rock check this out.