Graham Reid | | 8 min read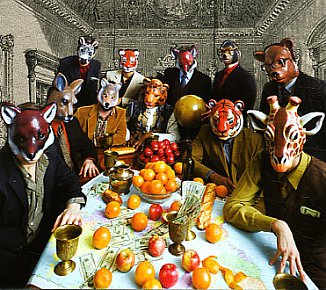 They might have come thundering out of Williamsburg, a suburb on New York City, but the big ensemble Antibalas have a mainline connection to the sounds of Afrobeat (particular that of it's inventor Fela Anikulapo Kuti), James Brown-influenced funky soul grooves and driving criss-cross rhythms.
Founded in a warehouse, the band drew its members from a bunch of Afrobeat and Latin music enthusiasts and right from the start rode a wave of interest and excitement for their vigorous sound.
Interestingly, they also grew up parallel with the Dap Kings (and often shared members) and the Daptone label on which they recorded.
Other friends in their neighbourhood were TV on the Radio and even now they still work together, sit in on each other's sessions and collaborate with the likes of Iron and Wine and others. They have also performed and recorded with Fela's son Femi and his longtime percussionst Tony Allen.
The phone call to Houston where founder member/baritone saxophonist Martin Perna lives finds him back from an Antibalas show in California and guesting on the Late Night with Jimmy Fallon television show where he joined the house band the Roots.
Antibalas – the word is Spanish for bulletproof – play furiously danceable Afrobeat, often with a political message – and were the band for the successful musical of Kuti's life Fela!
And they are coming to New Zealand to play the Taranaki Womad in March.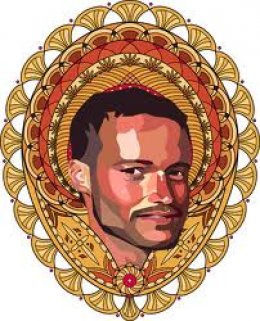 So Martin, a flexible line-up that exists sometimes as Antibalas, but just as often has players on loan to others it would seem?
Yes, a lot of it is out of necessity because Antibalas is a critical success but, given the size of the band and the number of people involved, making it work doesn't take care of us financially. So it is just a part of what we do.
It's a real labour of love, which is not to say we do Antibalas for free, but the cost of moving around the country and the world has exceeded the rate at which our income has grown. So it is a constant struggle.
The other thing is that we like working with other artists because it's a nice challenge and how people come to know what we do as Antibalas a bit better, because we are on their radar.
You grew up in Philadelphia, hardly what I might imagine as a big Afrobeat town. Where did you first discover this kind of music?
About 22 years ago I first heard a little bit of Fela and saw his name and there were tiny snippets, through rap samples mostly. There was one group in particular called X Clan and a lot of my musical education was listening to rap in the early Nineties when the producers were really able to sample freely and every song was like a patchwork quilt of all these other sounds and grooves from the late Seventies/early Seventies and the Sixties.
It was almost like a scavenger hunt to find where the original grooves came from and what the original music sounded like. That was what got me into soul and funk. James Brown was the most prominent person being sampled, but there were hundreds and hundreds of lesser known artists who were making really compelling music, and that's how I got into Fela.
Up until '88 it was very difficult to find any of his music because it was pre-internet and he had about six or seven albums which had US distribution out of his catalogue of 80 or 90 records. So I had to go hunt in vinyl shops and pay US$25 or US$30 . . . if I could find them. And those finds would happen only every three to six months.
Now a kid with an internet connection can, in 10 minutes, purchase or otherwise acquire Fela, Femi Kuti, Tony Allen and Antibalas's entire repertoire.
Down here I used to order Fela albums from the UK in the Seventies on the basis of what I had read. I hadn't heard a note but would order it in the sincere hope it had been described well by the writer or reviewer.
Yes. These days it is much better and I hope younger people don't take it for granted how easy it is to find music from every era and every country. It makes the process a little less special because there isn't that waiting for something to come in the mail or making the long trip, when you don't even have your own car, to the record store to dig through the records to see what has come in, that whole mystique.
It's still around, but I feel like it's not the same for the digital generation.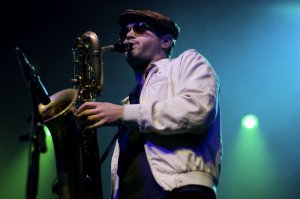 From a distance I read about this crucible of activity in Williamsburg when you guys were there along with the Dap Kings and TV on the Radio . . . Is that what it was really like in the late Nineties?
It really was. There was maybe a 10 block radius where we all were. We all started in same apartment and went to college together and there was a time in 97 -98 when we were all living in an old unfinished factory building which had pieces of plywood covering where the windows should be. It was one of the coldest winters ever and I had to sleep with gloves on, and take them off to turn a page in my book. I just started crying it was so cold. But it was a very creative and nurturing place.
We don't all live in mansions now, but don't risk hypothermia when we go to bed at night.
In that 10 square block the Yeah Yeah Yeahs formed and Interpol, and bunch of indie rock bands. It was all creative in a much different way.
Williamsburg seems like the new Downtown, the place where artists gravitate to.
What's happened is like all these other neighbourhoods in New York, artists move to a place because it is affordable and there is more space to be creative and they make something out of nothing . . . but they don't have the means to capitalise on that something-out-of-nothing.
We were never in the position to actually buy a place and have a foothold because we were struggling to pay our rent. But meanwhile all these people who did have money and wanted to live in an area where creative people were doing stuff and had transformed the neighbourhood, they could buy.
It is the spectators who drive up the prices although there might be some balancing point where there was an equal number of spectators and creative people. But now most of the neighbourhood is spectators and not creators.
Most of the people I knew of in that first wave and a half of creative people were priced out. In the beginning of Antibalas there were maybe nine of us who lived in walking distance of each other. And now none of us live in that neighbourhood. We had a rehearsal space which doubled as a performance space and that doubled as the first Daptone Studio. We lost all that when our landlord decided he needed almost twice as much rent as we had been paying.
That was around 2002 and that's when our touring picked up and we started playing a lot more outside of new york.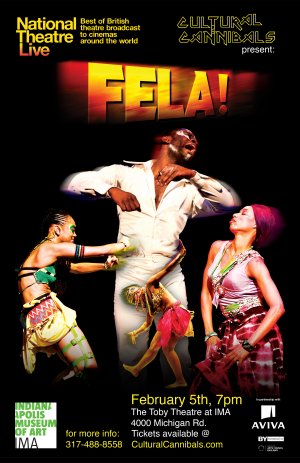 Prior to that some of you were involved in the Fela! stage show off-Broadway.
Right. After our 2000 album Security came out we did a lot of touring and really ran ourselves ragged and around that time – I was already living in Texas – the band was approached to serve as the workshop band for this musical.
Things worked out well and that evolved into an off-Broadway show with maybe two thirds of the Antibalas recording and touring unit . . . and the other people were ex-members of Antibalas or people who had played with us in other projects. Sort of extended family.
Our trombonist is still the musical director of the show, our trumpeter was assistant musical director and the tenor sax player was the lead soloist. So the first two and half to three years we had a really heavy hand in it, but it started to travel. Once the Antibalas members could sub out their parts – under union regulations they were obligated to do a certain number of shows without missing any – we started to get members back so we could tour and make records.
It took a lot of the wind out of the sails of Antibalas.
Yes, I thought that while that looks like a great opportunity it meant you had to be in a theatre every night, maybe six nights a week.
The things was it's a great show and incredibly dynamic, but you had to deliver the same thing night after night because that's the nature of the gig. Whereas with Antibalas it's a journey and an exploration. We work our repertoire and there is improvisation and we can mix things up, and the repertoire too depending on where we are and how long we have to play.
They are both challenging in different ways, but most of us got into music so we wouldn't have to play the same thing night after night.
But Fela! provided an important financial stability for a while because we weren't paying our bills as Antibalas and so [the musicians] were able to invest in some new gear and get instruments fixed and support their families and have health care for a while. So it had its benefits.
But as far as generating a whole new legion of fans for Antibalas, that definitely didn't happen.
It didn't hurt us but the theatre audience is different and even though Fela! was much more inclusive as far as its audience, the main theatre audience is above 50 and not as diverse. So a lot of the people across the country and the world who saw it are not the same audience that would get their feet muddy at a festival or come out on a Tuesday night at 11.30 to see us in a nightclub.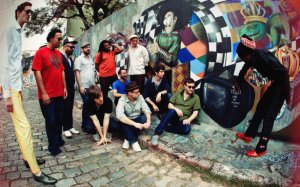 A Womad tour must be ideal in that you can jam on stage, and travel with like-minded people, among them many African musicians.
Yes, it's nice because generally when we've performed at a Womad there are always some workshop components.
So we will do a performance but in addition some performance thing where we break apart the song for people and talk about the structural components and how they fit together and form the foundation of the music.
That is important because the music is maybe foreign to people and they know they like it, but are not sure why they do, or how everything fits together . . . because it all merges into this one seamless sound. But it is made up of all these smaller components which they might not be able to pick out and recognise.
The more educated the audiences, the better it is for us.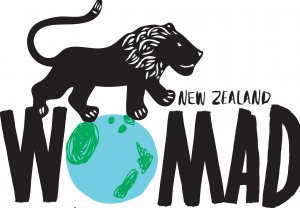 So the band is 11 or 12 people and a backline? Maybe you are touring party of about 20?
We will be 11 on stage but just one or maybe two others, a driver and a guy who does tour managing and front-of-house. Out of necessity we travel very light. We don't have any roadies or technicians.
We generally bring a front-of-house guy because you can't travel all the way across the world and leave the sound to any old engineer.
There are great engineers out there but very few are seasoned in finding the right blend of horns and drums . . . and know our kick drum shouldn't sound like a rock band's kick drum.
That's pretty important.
Womad Taranaki, New Zealand: March 15 -17 2013. For more on Womad 2013 artists at Elsewhere see here.
The Womad website for ticketing and information is here.