Graham Reid | | <1 min read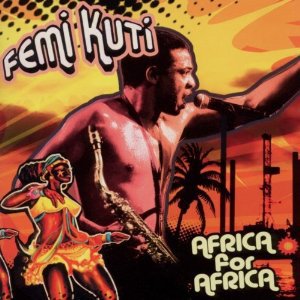 In 1970 George Melly wrote Revolt into Style, a witty and sometimes scathing look at how the revolutionary, anti-establishment figures in pop art and culture had been assimilated into the mainstream as just another fashion/style accessory.
You'd wonder what Melly might make of Nigerian firebrand musician and lightning-rod political figure Fela Anikulapo Kuti (1938-97) now the subject of an award-winning Broadway musical. As Songlines magazine noted "after decades as a cult hero, Fela Kuti has gone mainstream".

The Fela banner has always been carried by his son Femi who has taken elements of Fela's revolutionary, horn-driven and thrilling Afrobeat and hauled it into the present day by keeping the songs short (Fela's rolled towards the 30 minute mark and often beyond) and offering remixes.

This album – 14 songs, some about corrupt African and specifically Nigerian politics – is a more smooth and streamlined affair than his father's rambunctious work, but nails the right villains (unprofessional journalists among them), and is relentless in its percussion, organ and horns. By keeping songs below the five minute mark, this delivers a flurry of punches rather than a knock-out blow, although you'll be reeling and gasping for breath by the time the boiling standout Can't Buy Me arrives just five songs in.

This is a more pop-Afrobeat style than Fela's soul-rock, but no less powerful. Especially with volume.
Like the sound of this? Then try this.