Graham Reid | | 1 min read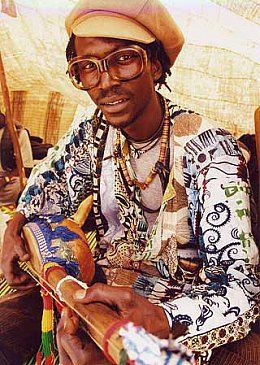 One of problems world music artists suffer is some preciousness in their audience which would preserve them in amber like an anthropological specimen. They want an artist to remain true to some perception of "authentic".
But musicians, being the troublesome creatures they are, largely ignore such constraints and move on, assimilating influences, and extending the boundaries of their style.
The great Senegalese singer/guitarist Nuru Kane – who also plays the three-string guimbri, like an acoustic bass guitar – has never been within the grip of those who put him a specimen jar.
His terrific debut album Sigil of 2006 (recorded in Scotland!) had The Observer's Phil Meadley noting the melange of music was "trance-like gnawa meets Senegalese soul, meets Malian blues, meets Fela Kuti, with a touch of Bob Marley".
Here at Elsewhere I observed that in the solo songs he sounded like a Mississippi bluesman.
Kane – born Papa Nouroudine Kane in Dakar but these days living in France – has spent time in Morocco and been influenced by gnawa music, but is something a world citizen with very open ears.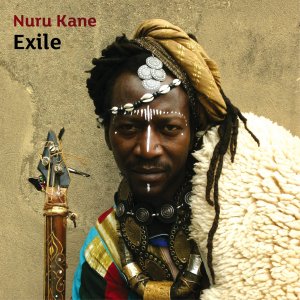 His most recent album Exile on Riverboat (through Southbound in New Zealand) is yet another shapeshifter again.
With guimbri, kora, guitars, calabash, ngoni, balafon and other instruments at his disposal within his band (and singers of course) he traverses a lot of ground and again slips free of the grasp of those who would pigeonhole him.
The extraordinary opener Afrika is an intricate tapestry of crisscross melodies from guitar, giumbri and balafon behind and between his vocals which almost hint at rap for a moment.
Perhaps because he lives in Europe now he also effortlessly assimilates in other sounds and styles, as on Corriendo which has Spanish influences, and the melodic spirits of North African are all over the title track and Sadye.
The reggae song Issoire is pretty ordinary but the real surprise from a man who is full of them is the soul-pop of Yes We Kane who refers to the old Lee Dorsey/Pointer Sisters hit Yes We Can, which was an Obama campaign song.
He's even got a bouncy pop song here in Bambala.
Nuru Kane's first band was an Afrobeat outfit and he had his ears on Fela Kuti and Bob Marley.
These days it is getting harder an harder to either pinpoint his sound or where he might be headed but whether his lyrics be personal or political, he marries them to music which is vibrant, tricky and inclusive.
Then of course is that strong and supple voice . . .
Preserved on record but never in a specimen jar.