Graham Reid | | 1 min read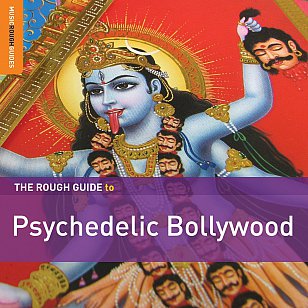 We've made the point previously with The Rough Guide to Psychedelic Africa -- and ignored The Rough Guide to Latin Psychedelia on these grounds -- that this usually reliable label is a bit too liberal with the "P" word.
A few wobbly and weird songs do not for psychedelic make.
So for those of us whose reference points in this matter include the Grateful Dead, Jefferson Airplane, Moby Grape and Sgt Pepper's, neither of those compilations -- interesting though they were -- came off as especially psychedelic.
But given the prominence of Indian music in the late Sixties -- largely thanks to George Harrison's interest and advocacy -- the distinctive drones, sitars, tabla, slippery microtones and tripped out raga-rock were very much part of the mind-expanding world.
Ironically then, aside from a few tracks on Beatle albums -- and parts of his Wonderwall soundtrack -- Harrison wasn't exactly the most Indo-psychedelic character around. His interest in Indian music was rather more serious, so it fell to other Westerners to incorporate and borrow heavily to create tripped-out Indo-psychedelic rock and folk.
But over in Bollywood studios in Bombay/Mumbai the Indian artists began to create their own crazy version, borrowing from Western instruments and rock.
Which means this collection just gets away with its catch-all title, even though Bollywood as we know it didn't come into existence until well after the smell of patchouli oil and incense had wafted away into the more cynical Seventies.
But across 15 mind-bending tracks the trickle down of the Western hippie-era – freak-out production (echoes, hysterical laughter), movie themes (the James Bond incidental music was an obvious influence), swirling percussion and strange guitar solos – is everywhere, and laid on thick on songs by the great playback singers Lata Mangeshkar and Asha Bhosle, composer R.D. Burman and rocker Mohammed Rafi.
There are weird sounds, huffing-and-puffing for percussive effect, horn sections off the leash and sampled voices from soundtracks. And high, weird melodrama.
Mostly drawn from Seventies films, these songs are by turns sensual (Bhosle and Burman on the slippery and almost minimal Mera Naam Hai Shabnam), exciting (the driving percussion on Moments of Passion which captures some kind of sexy vibe), influences from the soundtrack to Shaft and blaxploitation films (Yeh Mera Dil Yaar Ka Diwana) and by San Francisco rock guitars.
If nothing else it is always exotically different. And there's a swinging pop song on Hare Rama Hare Krishna (and it's not the one you know, although ends up that way)
The bonus disc is collection of diverse songs and soundtracks by composer R.D. Burman . . . and it's a trip in itself, although rather quieter. The come-down companion album, I think.
In places this is perhaps not psychedelic as some might define it, but – especially when the funk and wah-wah guitars arrive unexpectedly, or the orchestra gets very strange indeed – it has undeniable mind altering possibilities.
Given the right application of essential ingredients.
For more psychedelic music at Elsewhere start your listening here.