Graham Reid | | 1 min read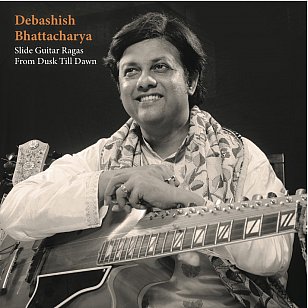 While his most recent album Beyond the Ragasphere was (mostly) excellent in its fusion of East and West, but succeeded best in his dialogue with guitarist John McLaughlin on an evocative conceptual piece Mystical Morning, those who prefer this great Indian slide guitarist in more traditional mode should rush to embrace this one.
Here over the course of five lengthy, deep immersion ragas he constructs a hypnotic programme where the evening opener Aarti is teased out in various directions and the subsequent piece (Ras Tarang, a midnight raga) is a masterpiece of initially delicate playing which climaxes in the final few minutes of its 20 minute span in furiously unpredictable but always melodic, slippery playing.
It also perhaps acts as a warning to others who might enter this field lightly.
The notion of a raga cycle is not unfamiliar given this form is quite specific in the times of performance, but this one offers not just the rare beauty of Indian slide -- the early hours of the morning and dawn are greeted with restful anticpation and the promise of a new day -- but some thrilling, pulse-racing playing.
No matter how you came to Bhattacharya -- through his Calcutta Slide Guitar album or even Ragasphere -- this is certainly an important addition to your collection.
The pieces on this album are too large (ie long) for Elsewhere to upload a sample track, but you can stream the whole album at Spotify here.
For another and very different journey through time in India you might like to check out this, a day in Varanasi.