Graham Reid | | 1 min read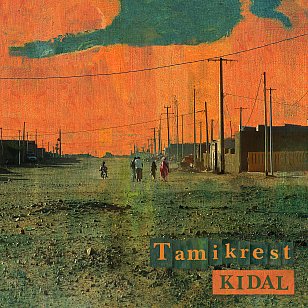 From time to time Elsewhere will single out a recent release we recommend on vinyl, like this one . . .
Where the first wave of Sahara blues/desert blues musicians who emerged over a decade ago – notably the bands Etran Finatawa and Tinariwen – seemed to have come to their distinctive sound on their own (elements of what we might describe as psychedelic blues and drone), the second generation grew up knowing Western rock music.
So Terakaft (which included former members of Tinariwen), the nominally solo artist Bombino and the excellent Tamikrest reach into other areas, the latter guided by very sympathetic producer Mark Mulholland this time out who also plays banjo, organ, bazouki and guitars. (Before they had been produced by Glitterbeat boss Chris Eckman).
Where their previous album Chatma had nods to dub and reggae, this one pulls back to their origins a little more closely while sacrificing nothing of their mesmerising quality in singer Ousmane Ag Mossa's gentle drone offset by those sinuous electric, lap steel and dobro guitar lines interweave (three and sometimes four electric guitars layered) and nudge this into real head-trip territory.
And of this over gently driving rhythms from drums, percussion, calabash and handclaps.
The slow blues of Atwitas/Fate (in translation "human beings seek patience and the heart wants soothing thoughts") with pedal steel at the midpoint is a dreamy standout which crosses the boundaries of idioms. But then again so is the expansive Ehad Wad Nadorhan/That Night (with very spaced out lyrics).
Inevitably many of these songs (on album which takes its title from their hometown) are of displacement – their region fell under the control of Islamic militants opposed to music of any kind – and pleas for unity, which accounts for the sad tone in Ag Mossa's singing.
As they say in War Tila Eridaran/No Soul, "There is no soul on this earth without yearning, without love for something above all the rest. My love, my country, my yearning, freedom . . . "
Tinariwen have a new and acclaimed album out, but for my money Tamikrest are the real go-to Sahara blues band.
Here's more evidence of their specialness. Seek this out.