Graham Reid | | 3 min read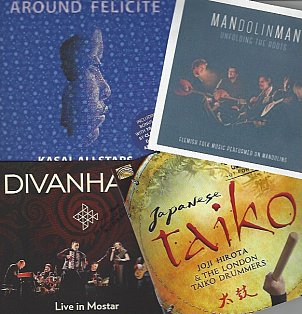 Here's a frequent flyer/transit lounge column for those at home who want to get their musical passport stamped. Elsewhere has so many CDs and downloads commanding and demanding attention that we run an occasional column which scoops up releases by international artists (IN BRIEF), in much the same way as our SHORT CUTS column picks out New Zealand artists.
And of course Yasmin picks up in her EPs column.
So now we offer a similarly conceived aural synopsis of world music. Get out your atlas and enjoy. (And there are many more in-depth world music reviews, overviews and interviews at Elsewhere starting here)
Comments in this column however will be brief.
.
Divanhana: Live in Mostar (ARC Music)
In the absence of understanding a word and relying just on the liner notes, Elsewhere is going into bat for this excellent CD/DVD set for the soulfulness of singer Naida Catic, the swirling accordion and violin of Nedzad Musovic and guest Ivana Duric who soar off the disc here, and the piano playing of Neven Tunjic.
Before this live and obviously appreciative audience – which seems to need little encouragement to sing quietly along with the chorus on some ballads and clap along when the tempo goes up – this six-piece (with electric bass guitar, plus drums and percussion) bring traditional songs to life in thoroughly contemporary way.
The hour-long DVD includes sharply filmed interviews (subtitled) and the young musicians – all of whom look to be under 40, some by quite a bit, -- alongside evocatively and beautifully shot black'n'white and colour live footage at various European concert halls.
There is drama, contained passion, celebration, folk, elements of Western classical and European jazz . . . and much more here.
Highly recommended as a package. Be the first on your block to discover Divanhana
Duarko mila, by Divanhana
Kasai Allstars: Around Felicite (Crammed Discs/Southbound)
The sound of Congotronics, Kasai Allstars and others out of Kinshasa have seduced outsiders for well over a decade now because the sound of these artists using the cheapest of equipment comes off as a mix of tribal chant and dance, weird $2 guitar psychedelics, a cappella field recordings (in factories and urban contexts) and out-there trip-hop.
Numerous Western artists have lined up to record or remix this challenging, danceable material but here things initially go in a slightly different direction. These 11 pieces – which includes two pieces where the choral group and Orchestra Symphonique Kimbanguiste interpret three holy pieces by the Estonian classical composer Arvo Part – are from a soundtrack to the film Felicite by the French-Senegalese director Alain Gomis.
The story is that of a woman who is the singer with the Kasai Allstars so these songs jump between the secular and the soulful, the street and the chapel.
An extra disc with this CD has 10 pieces remixed by the likes of Ramzi, High Wolf, Daedalus, Africaine 808, Clap! Clap! and others.
If the first disc makes for a strange mix of joyously earthy songs (and flat-tack dance on Bilonda) alternating with the uplifting spirituality in the Part pieces (and some film dialogue which might have been usefully edited out), the second – available separately on streaming and download platforms -- is just plain shamelessly screwy, psychedelic-dancefloor energetics and bewildering headphone experiences.
This is a tough call for most but if Congotronics, Kasai Allstars and the earlier Tradi-Mods Vs Rockers revisions were on your radar then you are in excellent, pleasingly unsafe hands here again.
In Praise of Homeboys, Kasai Allstars remixed by Africaine 808
MANdolinMAN: Unfolding the Roots (ARC Music)
Yes, you certainly do have to like the idea of four mandolin players doing Flemish folk songs. But to give these guys their due, they do make them seem jaunty and a lot more fun than a lot of European folk. So here are traditional Flemish songs – and one original -- turned into smile-inducing dance tunes, waltzes and polkas.
It's fair to say that this will not be at hand on a regular basis around Elsewhere's way but if you play mandolin in any context at all – folk, country, indie.rock – then you should certainly check out how these people extend the contract into broody folk, fleet-footed dance and seems to comfortable incorporate voicings from Spain and hints of British traditions, as well as a rumba. Although of course they might argue those people got it from the Flemish and . . .
A conversation over real ales, I suspect.
Mazurka Houtem, by MANdolinMAN
.
Japanese Taiko: Joji Hirota and the London Taiko Drummers (ARC Music)
We are of the firm persuasion that albums by taiko drummers should be seen and not heard, and that even after you've seen a couple of ensembles you certainly do not to see too many more.
We reached peak drum ensemble long before this year's Womad (where a Korean group performed) and this 12-piece outing of disciplined thumping – punctuated by the occasional shout of delight – only confirms that despite the presence of taiko master Joji Hirota that this really doesn't translate to record.
And love them though we did, the same could have been said about our own From Scratch at times.
Drum solos and drum ensembles are for drummers.
Itto, by Joji Hirota and the London Taiko Drummers