Graham Reid | | 1 min read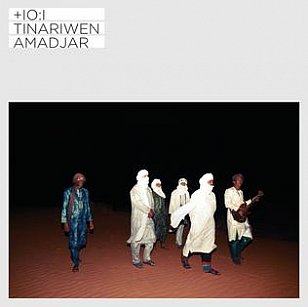 Elsewhere has written about
Tinariwen
so often that we will come at this new album from another angle.
The title apparently means "the unknown visitor" in their Tamashek language, but the visitors on this, their eighth album, are probably quite well known to our readers: Warren Ellis of Dirty Three/Bad Seeds appears on fiddle on five of the 13 pieces here and guitarists Stephen O'Malley of Sun O))), experimentalist Cass McCombs and Rodolphe Burger (whom we haven't heard from since this album) all appear.
But perhaps of more note is the astonishing Mauritanian singer Noura Mint Seymali and her guitarist husband Jeiche Ould Chighaly on the swirling and apocalyptic psychedelics of Zawal.
Perhaps Seymali and Chighaly encountered Tinariwen while on the Womad circuit which brought them to Taranaki earlier this year where each band played blindingly mesmerising sets.
Seymali takes a back seat in the chorus on Zawal but comes to the fore on Takount which dials back the interweaving virtuosi guitar playing for a more acoustic approach and lets her ululating style sit at the centre.
And she is there again on the archetypal desert drone of Amalouna.
Recorded in Mauritania with a mobile studio – back close to their homeland of Mali after two albums recorded in the Californian desert – this captures Tinariwen in all their raw beauty, with the guests slotting into their conception.
Even Burger – often a assertive presence but who has explored all kinds of music – becomes part of the tapestry on Iklam Dglour which ends with a casual discussion.
Tinariwen are sophisticated artists who have had Western guests in the past (among them Kurt Vile, Mark Lanegan, Nels Cline and the Dirty Dozen Brass Band) but they always only ever sounded like themselves, such is the power of their vision.
In the absence of a lyric sheet in translation Elsewhere can only guess at what these songs are about but it's a fair guess that their dislocation from their homeland (Islamist extremists, violence) and their faith are at the heart of these sometimes ineffably sad sounding songs (Itous Ohar).
As always, Tinariwen – whose sound has spawned a movement along with Etran Finatawa – create something beautiful out of that sadness and loss.
You can hear Amajdar at Spotify here.